The health and safety of our community is of utmost importance to Pensacola State College and due to the challenges associated with in-person events, we have made the difficult decision to postpone our December Holiday Experience until next year.   We know this is a very challenging time, and appreciate your understanding and support.  We look to celebrating the season with all of you in 2021.
Without our holiday fundraiser, your support is needed now more than ever. If you are in the position to give, we hope you will dress up and celebrate the season from the warmth of your living room!  Please support Pensacola State College where 100% of your gift will be used to support our amazing students who work and live throughout our community .
All donations will go into the Fund for Excellence, which invests in the future of students by providing scholarships and program enhancements to those who truly need it the most.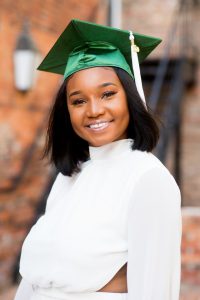 "The First Generation Scholarship provided me the opportunity to prove to my children that prayer, hard work, and dedication are the keys for success. It feels great to accomplish one of my dreams and to be a first-generation college graduate."   Kequanda | Summer 2020 Graduate |Early Childhood Education