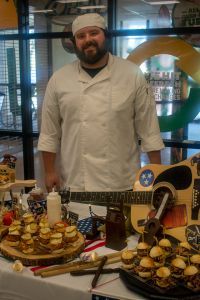 Pensacola State College's annual Garde Manger Celebration brought more than 150 of the College's donors and supporters to the Pensacola campus on Wednesday, July 22 for an event featuring food and friendship.
Hosted by PSC President Ed Meadows and the Pensacola State College Foundation, the event is a thank you to donors whose financial gifts help fund student scholarships, programs, facilities and more.
While guests dined on scrumptious small dishes prepared by PSC Culinary program students, Meadows noted that so many students depend on scholarships to help finance their education.
"I just wanted to extend a big thank you to all of you,'' Meadows said. "One of the reasons we have some of the talented students that we do is because of all of you and your generosity."