Go Here.  Get There.
There are 18,624 students enrolled at PSC who GO HERE – most to seek a better life doing what they will love.
Many don't attend college for various reasons.  The #1 reason young adults do not is that they or their families cannot afford it.  In 2018, the PSC Foundation awarded scholarships to 1234 students, totaling $660,367.
By supporting Pensacola State College events as a sponsor or participant, you will provide funds to meet essential needs.  By helping a student GET THERE, you are investing in Pensacola.
May
3:  Big Break Golf Tournament, presented by 

Marcus Pointe Golf Club
Enjoy an invigorating day of golf in the Florida Sunshine at the 14th annual Big Break Golf Classic. The day begins with lunch and is a great way to network with friends on the course, at the awards festivities, and during the silent auction.
Our goal is $30K, which will afford deserving students the opportunity to take 110 classes; over $300,000 has been raised in the Big Break 13-year tournament history.  All proceeds go towards supporting student scholarships and programs.  A new feature this year is a "Cork Pull" featuring all top shelf brands and a Hole in One Prize of an ONWARD 4 Passenger Golf Cart by Club Car sponsored by Kool Karts.
Become a sponsor! Support begins at just $150, and we hope to fill up fast!  CLICK HERE to sign up today!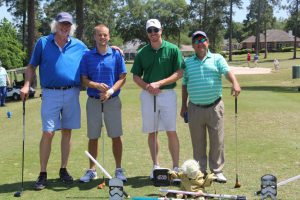 September
28:  Day of Clays Tournament, presented by 

Santa Rosa Shooting Center
In 2018, 100 shooters took advantage of the beautiful outdoors.  The Santa Rosa Shooting Center hosted participants who tested their skills by shooting clay pigeons pulled by PSC student athletes.  This sport is often described as "golf with a shotgun."  Sporting clays simulate the unpredictability of live-quarry shooting, offering a great variety of trajectories, angles, speeds, elevations, distances, and target sizes.  $74,000 was raised in support of student scholarships and college programs.
     
December
5:  Holiday Experience, presented by Michael and Jo-Ann Price
Pensacola State College, Milton Campus
Join us for spirits, hors d'ouevres, decadent desserts, and a cup of holiday cheer at the Holiday Experience as students in one of the numerous degree programs that PSC offers showcase their talents and skills through interactive and engaging demonstrations.  Festive holiday music performed by PSC music students will provide the intermission to an elegant evening of friendly conversation.  In 2018, Angel Trees, as well as silent and live auctions, helped raise $56,000 to support student scholarships and college programs.