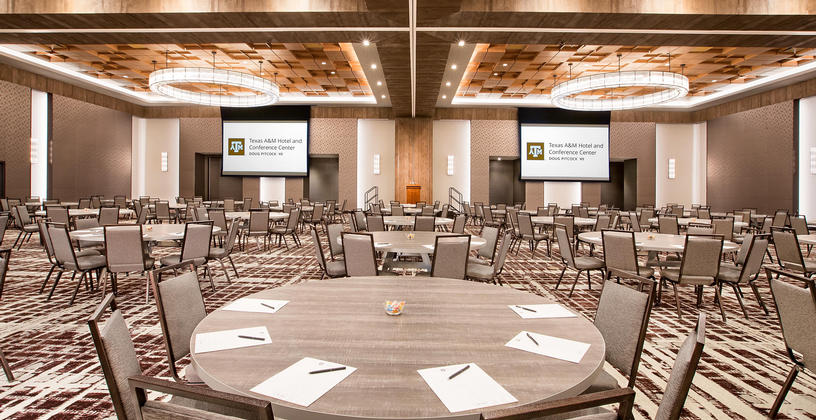 The Jan Miller Conference Center
There is no space available that meets College or community conference or training needs if a group exceeds 300 individuals for banquet or ballroom type events. The Jean & Paul Amos Studio can host 600 attendees but 499 of the seats available are stadium-style seats that are not conducive to larger training meetings or conferences. Additionally, moving the sound and lighting equipment costs approximately $1,250 for each event. Routinely, requests from community partners must be declined because of the lack of available open dates.
Significant gifts to the college provide opportunities for donors to designate the name of a college facility or program in honor of the donor or another person.
Scholarships, endowed chairs, lecture series, and faculty and staff awards programs are among the named gift opportunities, as are buildings or portions of buildings, including laboratories and conference rooms.
Naming opportunities are offered in recognition of a single, tax-deductible, irrevocable gift or written pledge made over a specified period of time.
PENSACOLA CAMPUS NAMING OPPORTUNITIES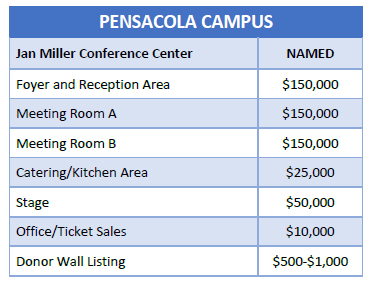 "There are many special events, seminars and workshops in the course of the academic year held at the campus by both the College and the community, yet we do not have a dedicated space for these events. We also have to decline requests or go off campus for our own events because the space we have is not large enough to accommodate special events. This facility would ensure that we do not inconvenience the regular activities of the campus when special events are requested."

-Dr. Ed Meadows, President, Pensacola State College

ROOM USAGE AND CAPACTITIES

CAPITAL NEEDS:
Currently, the available spaces on campus have limited seating and do not meet the training and conferencing needs of the College.
WSRE Jean & Paul Amos Performance Studio- $1,250 cost per use

100 banquet style attendee space & 499 stadium seats

Delaino Student Center- limited availability with negative impacts on student socialization and networking

Capacity is limited to 250 for plated dinners and entertainment

Culinary Dining Room-limited access due to culinary and hospitality instructional courses

Capacity is limited to 60 seated patrons
A dedicated 12,500sf conference center would enable the College to enhance professional development training opportunities for College faculty and staff. Additionally, students and community partners would benefit from the facility that could be used to meet the training, workshop and conference needs detailed below:
Master teacher seminars

Nonprofit Center Workshops, Summit, Trainings

Opportunities for Hospitality and Culinary Students to engage in hands-on experiences

Internships and Mentorships, in-house

Guest Lecturers to share expertise and improve student experience

Scholarship and Entrepreneurial Events to promote student success

Reduced event expenses with improved opportunities and availability

Volunteer and Career Fairs to invite community involvement