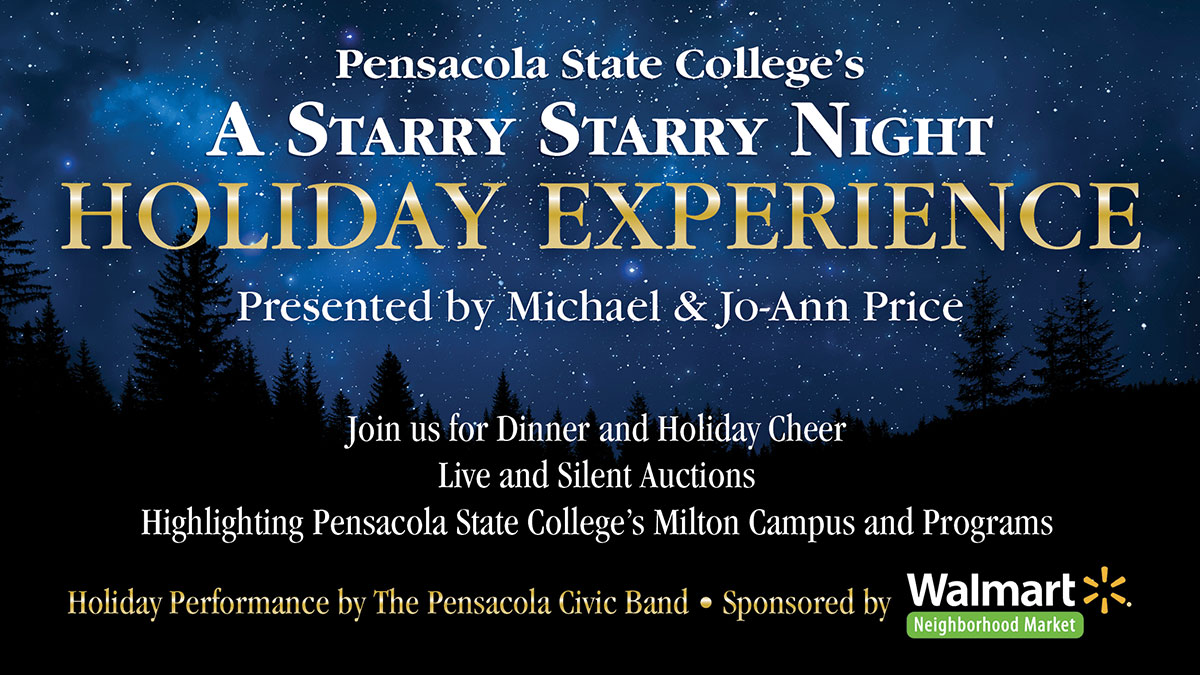 Please join us at 5:00 pm on Tuesday, December 3rd to celebrate the 2019 Holiday Experience, one of Pensacola State College's most important fundraising events of the year.
The star of this years' experience will be our Milton Campus.  Known throughout the community as a family-friendly campus, the evening will provide an opportunity to hear firsthand of the PSC college experience directly from students enrolled in Welding Technology, Cosmetic Arts and The University of Florida Natural Resource Conservation and Plant Science Programs as well as those who participate in the active Milton Campus Outdoor Club.
The evening will feature a festive dinner with students, live and silent auctions,  sweet treats and spirits along with the sights and sounds of the holiday season as performed by PSC students enrolled in the Performing Arts programs.   Another highlight of this joyful evening will be a special presentation by the always impressive Pensacola Civic Band.
Your investment will be a contribution to the Fund for Excellence, which invests in the future of students by providing scholarships and program enhancements to those who truly need it the most.
We hope you will choose to become a sponsor, purchase tickets or provide an item for our Auctions.  All of us at Pensacola State College pledge to use your gift to continue our high level of service to students and the community.
For more information on purchasing tickets, donating an item for our auctions or sponsorship opportunities, please call 850.484.1564.

"My experiences as a student at Pensacola State College we're beyond what I could have ever expected going into my first year of college. The people I met, and the experiences helped me to transition smoothly into The University of Florida, Milton Campus.
It was nice to be close to home, while still getting a valuable education. It definitely gave me an advantage going into UF Milton Campus, being on the same campus for my first few years, and getting to know the staff that works at UF.  I would absolutely recommend it to any student who was considering becoming a student at the UF Milton Campus."
Christian Feliberty
PSC Graduate/ UF Natural Resource Conservation
The 2019 Holiday Experience is sponsored by: