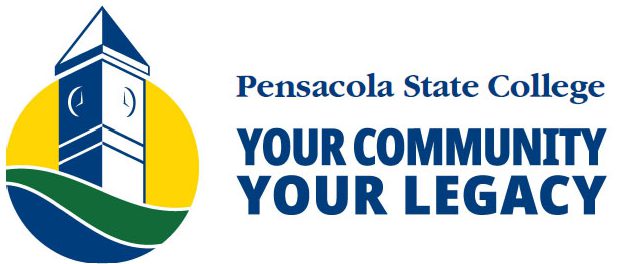 If you would like to find out how you can leave a lasting legacy at Pensacola State College, click here to find out more.
Every Gift Has a Story and Leaves a Lasting Legacy!
At Pensacola State College, the Foundation manages 278 scholarships that have been privately funded as a legacy that donors have helped create. Through these scholarships, 194 that are endowed, donors have supported the passions and interests of students who apply for financial assistance.
In 2020, the impact these donors created was felt by 964 students who were helped with 1,489 awards that total more than $685,863, a 35% increase since 2019!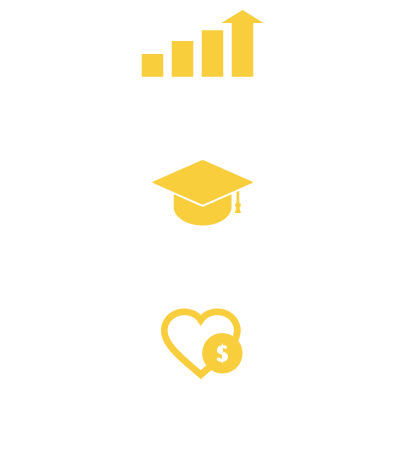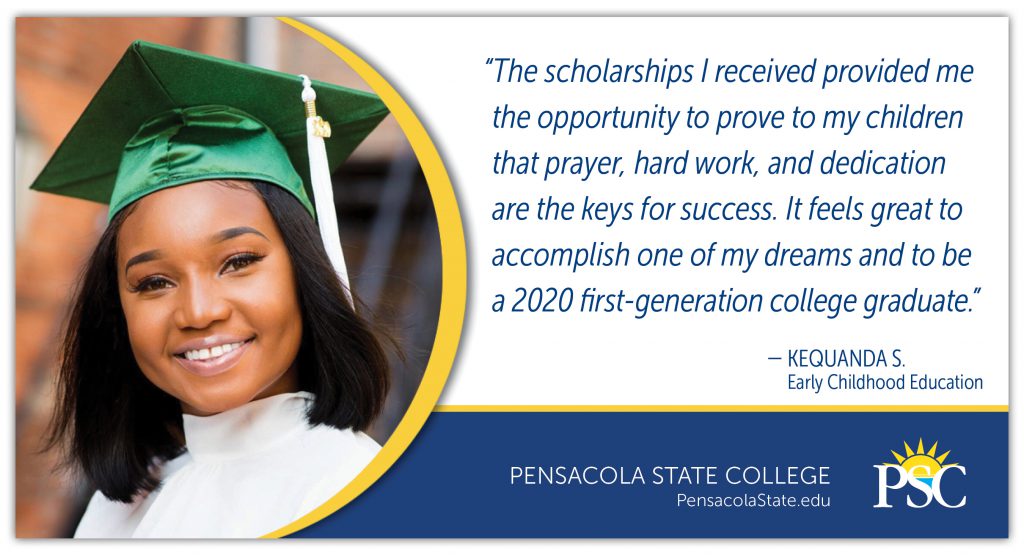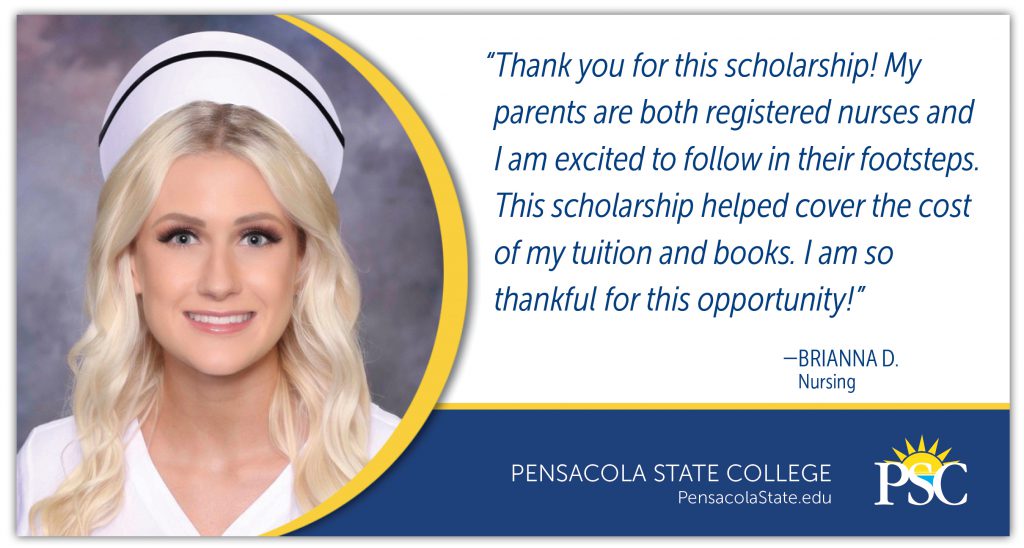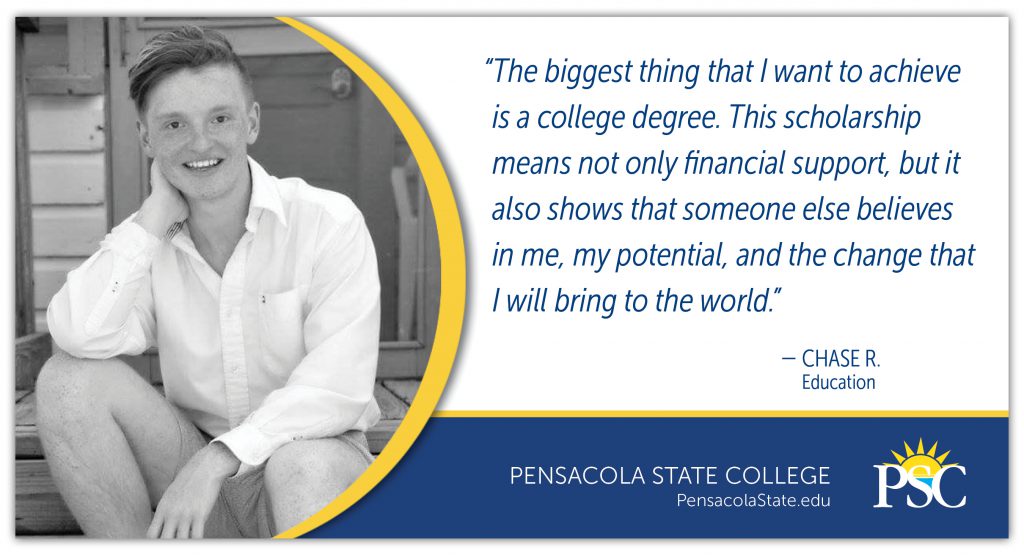 Donors Enable First Generation Student Success
First generation in college students are those whose parents did not earn a bachelor's degree and many of these students require extra support to succeed in higher education. However, generous scholarship donors help make it possible for first-gen students to excel! The below first generation students share their gratitude for the scholarship support they received from private donors.
New Opportunity for Pace Center for Girls
The Margie and Alan Moore Endowed Scholarship is awarded to individuals who have persevered through adversity and are striving to continue their education. Throughout their lives, Margie and Alan Moore have worked with and supported organizations that help open the doors of education for young people, including Margie's work as Past President of the Pensacola State College Foundation Board of Governors and current Chair of the Pensacola State College Board of Trustees.
IT Gulf Coast Invests in the Tech Leaders of Tomorrow
Two stunning art exhibits are on display at Pensacola State College
We are pleased to announce the opening of two new exciting exhibits at the Anna Lamar Switzer Center for Visual Arts – showcasing the works of Lauren Woods and PSC's own Visual Arts faculty.
As we usher in a new school year, this is a wonderful time to learn more about how the Visual Arts Department is making strides to expose the arts to the Pensacola community, and how you can take part by becoming a member of the Anna Society.
Culinary Arts Fall 2021 Lunch and Dinner Series - Announced
The Culinary Arts program will begin its much-anticipated, Lunch and Dinner Series, this Fall starting in late September.  This highly regarded culinary experience, that typically sells out in a couple of hours, allows students to show off their culinary and hospitality skills in a real-life restaurant environment, held in the Molly McGuire Martin Culinary Dining Room located in the PSC Delaino Student Center.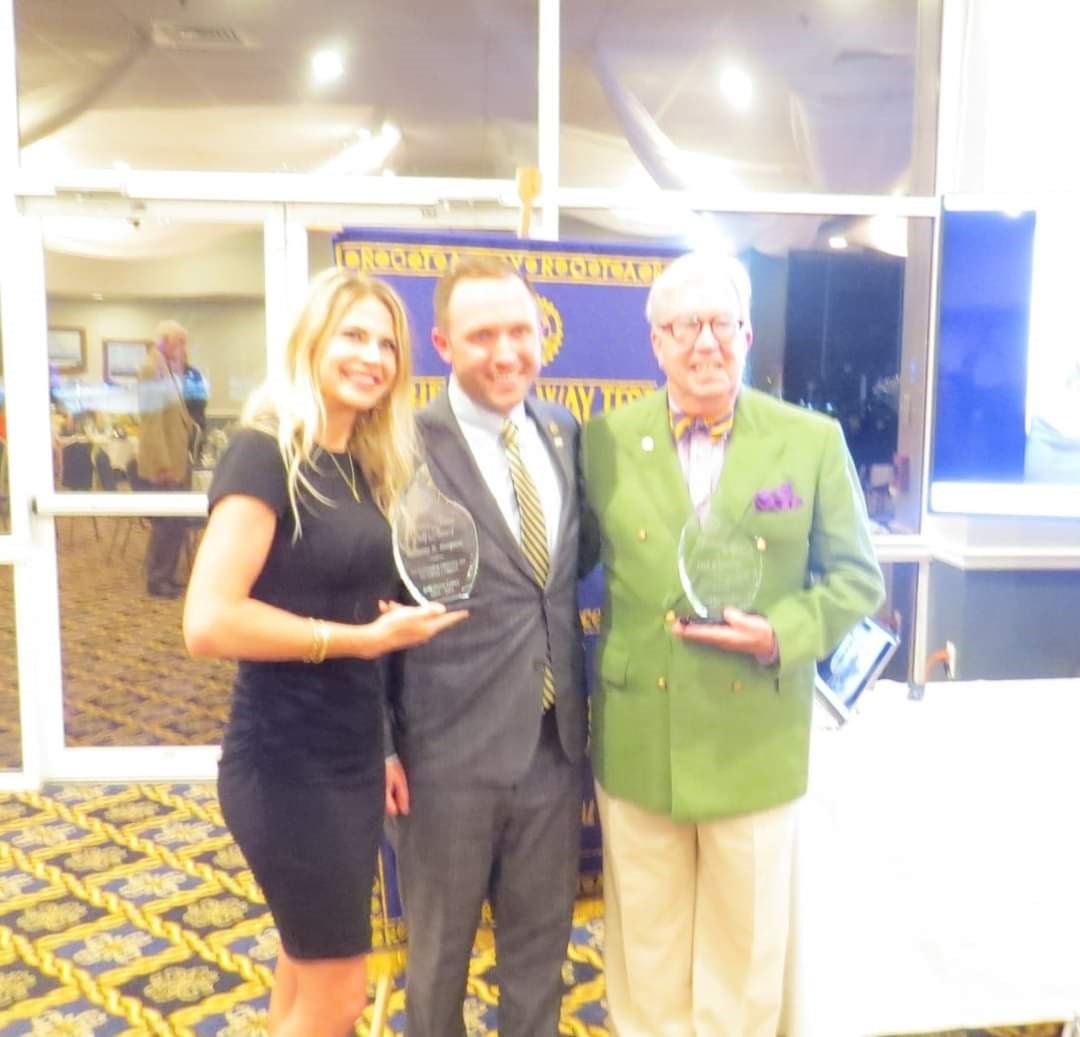 Campaign Cabinet Members honored with Rotary Awards
Hal George – Rotarian of the Year
Join us as we congratulate Campaign Cabinet Member, Hal George was presented with the Rotarian of the Year award for his endless commitment to Rotary and the Pensacola community. His strength, passion, and love of service was recognized by Gulf Breeze Rotarians. He has served his Rotary Club as President (2006-2007) and Programs Chair (since 2017).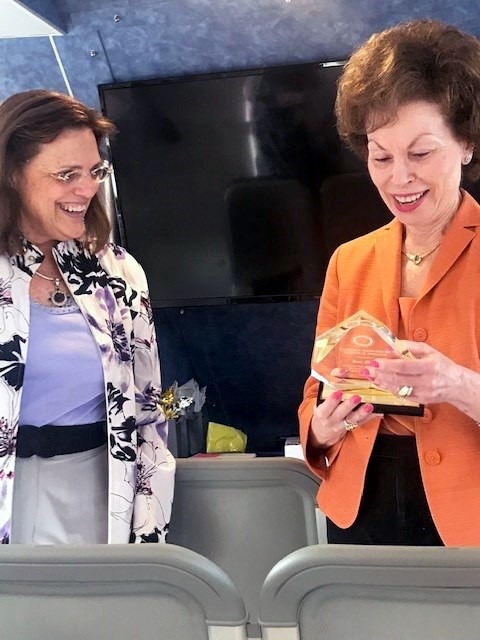 Jan Miller – Sandra Robinson Award (Rotary Club)
In June, the Rotary Club of Pensacola presented Jan Miller with the annual Sandra Robinson Award for outstanding service & support of educational, healthcare & cultural organizations. Please join us in congratulating Campaign Cabinet Member Jan Miller – a champion for the Pensacola State College Foundation and a philanthropist serving the broader Pensacola community.
PSC's own – Dr. Rameca Leary – Goes Above And Beyond
Since she began her career at PSC in 2014, Dr. Rameca Leary has illustrated her unwavering commitment to Pensacola State College and its students. During the height of COVID-19, the annual AMMES Wiggins Banquet, which raises funds for the African American Memorial Endowment and Dr. Garrett T. Wiggins Live Your Dream Scholarships, was canceled. In its place, Dr. Leary spearheaded a 100 for 100 Campaign which raised a total of $15,665 toward the two scholarship funds.
PSC announces new technology innovation center funded by Gulf Power Foundation $100,000 gift
Pensacola State College plans to open a dual-enrollment charter school at the Warrington campus that will target military dependents and at-risk students.
The proposed opening date for the Pensacola State College Charter School (PSCCS) is August 2022.
PSC President Ed Meadows made the announcement on Tuesday, May 18, during a press conference on the Pensacola campus.
Pensacola State College unveils Donald McMahon III Center for Cybersecurity
Pensacola State College fortified its position as a growing regional leader in cybersecurity on Tuesday, May 4, with the unveiling of the state-of-the-art Donald McMahon III Center for Cybersecurity, which is housed in the newly-opened Baars Technology Building.
The Center for Cybersecurity was named for McMahon, a Pensacola businessman and philanthropist, in appreciation and recognition of his $250,000 donation to PSC to support students enrolled in the cybersecurity program or closely-related fields of study.
"Isn't it something?" McMahon said as he toured the facility with friends and family members – including his adorable grandchildren. "This is going to help generations of students who are going into one of the most needed and fastest-growing fields in the country."
PSC unveils state-of-the-art Baars Technology Building
Pensacola State College unveiled its new state-of-the-art Baars Technology Building during a ribbon cutting ceremony April 9 on the Pensacola campus.
The $15 million ─ 23,839-square-foot ─ two-story facility will be home to the College's STEM programs, including cybersecurity, mathematics, computer science and other high-tech fields of study.
It replaces the Mary Ellison Baars Building. Demolished in January 2019, the Mary Ellison Baars Building was 60 years old and the College's oldest structure. It was named in honor of the Baars family matriarch for making the original property available to the College.
"Pensacola State College was Florida's first junior college established under the Minimum Foundation Program in 1947. We started in a downtown Pensacola boarding house, but the original Mary Ellison Baars Building was the first structure built at the Ninth Avenue location," PSC President Ed Meadows said.
11 PSC students awarded African-American Memorial Endowment, Wiggins scholarships
Once Lakisha Jones earns her Associate in Science degree in Pharmacy Management in December, she plans to retire. Kind of. Because when she graduates from Pensacola State College, Jones will finally begin her true career in the pharmacy field.
"I plan on retiring from my job at NAS and starting my pharmacy career at the Navy Hospital or the V.A.," Jones explained. "I've worked at the Naval Exchange for 20 years, but I finally feel like I'm going to be doing what I was always meant to do."
Jones ─ a mother of two children, ages 16 and 9 ─ was one of 11 PSC students awarded an African-American Memorial Endowment Scholarship or Dr. Garrett T. Wiggins "Live Your Dream" Scholarship. The scholarship trophies were presented on Feb. 26 at WSRE-TV aboard the Pensacola campus.
Pensacola State's second-ever capital campaign has already raised more than 50 percent of goal
President Ed Meadows raised a glass recently to toast donors and supporters who have helped the College raise more than $6.2 million in an ambitious "Your Community — Your Legacy" capital campaign.
That's 56 percent of the $11 million campaign goal that already has been met. And though the campaign began its quiet phase in December 2018, it wasn't until Thursday's press conference at the new Baars Building on the Pensacola campus that the campaign was unveiled to the public. The campaign will fund workforce development, student scholarships, a conference center and College growth and expansion.
Since the 2018 launch, 570 donors have contributed funds to the "Your Community — Your Legacy" campaign, with 226 donors giving $1,000 or more.
PSC's Mark A. Hopkins Goes Above and Beyond
Mark Hopkins has been with Pensacola State College for 21 years and counting. Before joining the college, Mark served in the U.S. Navy for 20 years and loved every day of it. Not only has he made an impact as the Graphic Design Program Coordinator in the Visual Arts Department at PSC, but he also served as the Assistant Men's Basketball Coach and has volunteered his time on various committees. Mark has generously donated to PSC for 20 years because he loves and believes in our students. Here's why Mark chooses to give back:
Jo and Bill Jones Endowed Scholarship is Established
We are honored to celebrate the establishment of the Jo and Bill Jones Endowed Scholarship! Pensacola State College Alumnus, William M. Jones, generously chose to create this award for nursing and health science students as part of the Your Community, Your Legacy Campaign. The new scholarship bears the name of William and his late wife, Jolinda Gaye Jones. Jo and Bill have been devoted supporters of the Northwest Florida community since moving to Pensacola in February 2008 and continue that trend with this selfless gift. Bill says that PSC and the health sciences have long been near and dear to his heart:
The 10th Annual Day of Clays Event presented by TRANE was the most successful shoot yet.
The 10th Annual Day of Clays Event presented by TRANE was the most successful shoot yet. On Saturday, October 2nd, over $110,000 was raised with all proceeds directly aimed at supporting Pensacola State College students and programs.
"As we emerge through this pandemic, our ongoing support for students continues to be of the utmost importance," said Andrea Krieger, Executive Director of the Foundation.  All proceeds benefit PSC students through the Fund for Excellence.
At the Santa Rosa Shooting Center in Pace, more than 140 shooters of all ages, representing 39 teams, competed at the event. First-place teams from two courses were recognized.