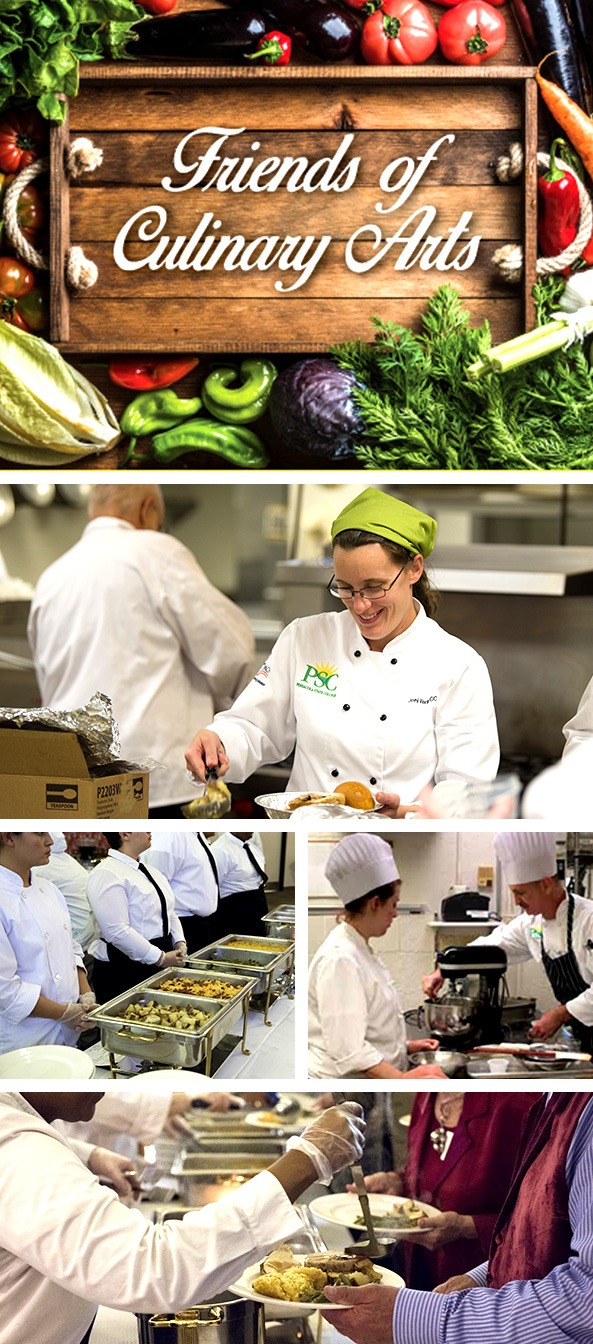 Interested in supporting PSC Culinary?
Contact:
Mikenzie Francis,
Donor Relations Coordinator
850-484-1560
The Center for Culinary and Hospitality Management prepares its students for a profitable and exciting career.  Pensacola's beautiful beaches bring in tourists from around the world and make Pensacola a great place for PSC's culinary and hospitality professionals.  Students get hands-on experience serving members of the community throughout the lunch and dinner series each semester.  These meals are so popular that tickets for an entire semester will sell out in just a few hours!  Program graduates have placed in the top 10 at National SkillsUSA Championships and in the World Food Championships.  Our Alumni work as Chefs in prestigious restaurants such as V Paul's in Pensacola, FL; Fin & Pearl in Nashville, TN; and Restaurant Iron in Pensacola, FL.
In 2018, a membership affinity group called the Friends of Culinary Arts was formed in support of the culinary arts and hospitality management at PSC.  This is a group of patrons who believe in the value and the importance of the field and of our students.  The Friends of Culinary Arts enable our students to obtain new equipment, to earn a quality education, to practice in functional facilities, and to have exceptional opportunities.  Members not only support our students by giving financially, but also by being present at the lunch and dinner series.  As seen below, members get exclusive access to these exquisite meals!
2019 Quick Stats:
Friends of Culinary Arts Celebrated its One Year Anniversary

2019 Graduate, Kristine McMillian, placed 6th in the Culinary Arts Competition during the National SkillsUSA Championships held in Louisville, KY

The Molly McGuire Culinary Arts Endowed Scholarship Fund Principle Reached More Than $300,000

Events included the Santa Rosa Kid's House Chili Cook-Off, Chocolate Fest, Taste of Gulf Breeze, and WSRE Wine & Food Classic
Friends of Culinary Arts Helped:
Raise $1,245.88 to Support PSC Culinary Arts