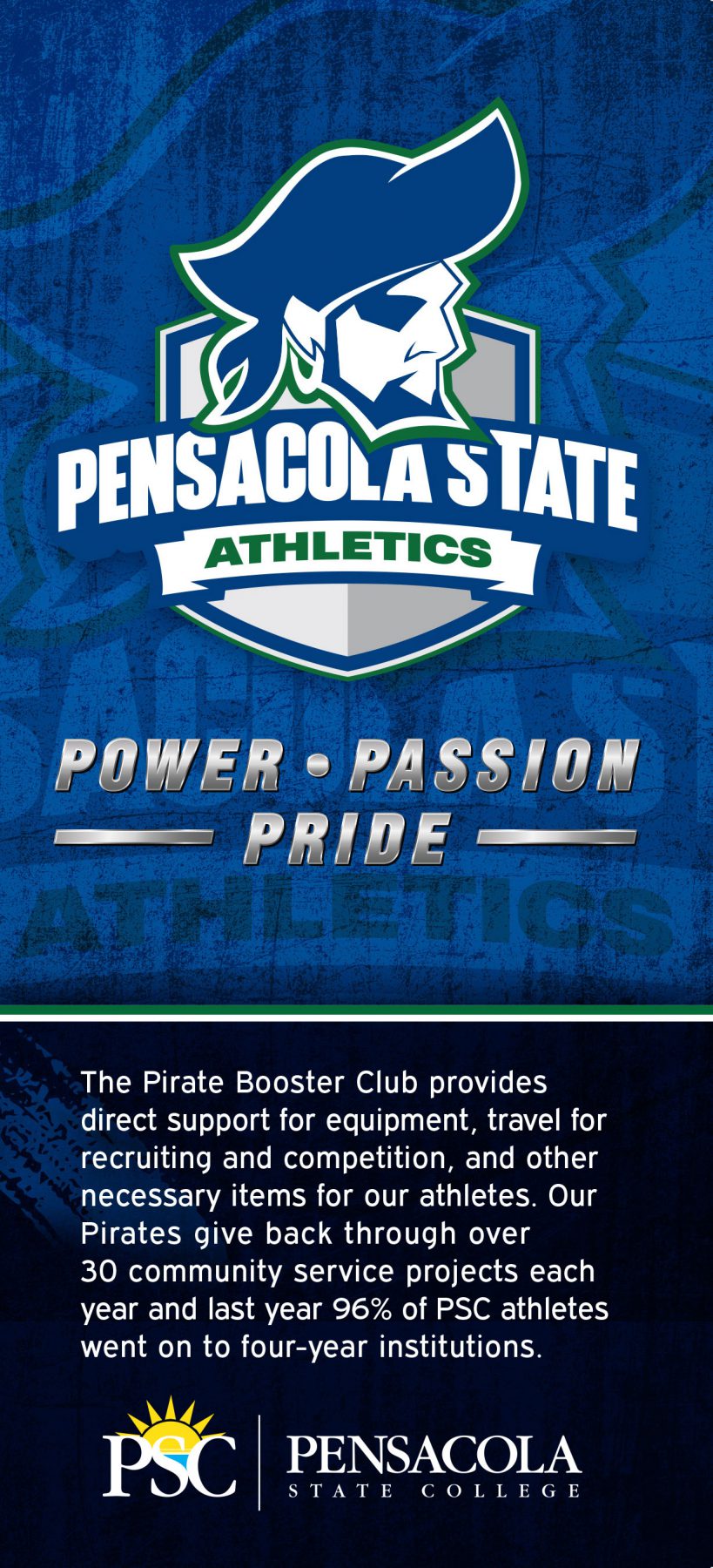 Interested in supporting PSC Athletics?
Contact:
Mikenzie Francis,
Donor Relations Coordinator
850-484-1560
The Pensacola State College Athletic Department is woven into the fabric of the College.  Our six talented athletic teams compromised of over 85 student-athletes are a source of pride and comradery for both the College and the community.  PSC is home to a Men's Basketball, Women's Basketball, Cross Country, Softball, Baseball, and Volleyball team.
Last year was truly outstanding, with 37 PSC athletes named to the Panhandle Academic All-Conference and 7 honored as Academic All Americans. Our athletes, across all sports, earned an impressive cumulative 3.18 GPA at the close of the fall 2019 semester. More than 20 student-athletes struck major deals committing to Professional, Division I, Division II, Division III, and NAIA colleges and universities. Over 96% of our sophomore athletes went on to four-year colleges.
Our Pirates also gave back by participating in more than 30 community service projects such as the Ronald McDonald House, Westgate Elementary Trunk or Treat, Miracle League, and the PSC Foundation's Day of Clays scholarship fundraising event. As a whole, our PSC student-athletes recorded over 2,000 volunteer hours.
The Athletics Booster Club promotes and supports the Pirates' athletic program through volunteer service, financial gifts, and event attendance.  This is a group of patrons who believe in the importance and the value of sports, of PSC, and of our students.  Members of our Athletic Booster Club enable PSC student-athletes to obtain new equipment, to earn a quality education, to practice in functional facilities, and to have exceptional opportunities.  The Athletics Booster Club is an opportunity to support our deserving PSC student athletes while also enjoying exclusive perks and joining a community!  Listed below are the varying levels of membership.
For information on a Corporate Sponsorship within the Athletic Department, please reach out to the Coordinator of Booster Operations, Hailey Lotz at 850-484-1322 or hlotz@pensacolastate.edu.
2019 Quick Stats:
42 student athletes athletes made 2019 All Panhandle Conference Academic Team

26 student-athletes made 2019 FSCAA All-Academic Team

Student athletes from five PSC teams First and Second Team All Panhandle Conference

69% of student-athletes earned over a 3.0 GPA in the Spring 2019 semester

PSC athletic teams participated in 30+ community service projects

15 student-athletes struck major deals with Division I, Division II, Division III, and NAIA schools
PSC Athletic Boosters Helped:
Fund the Athletic Film Room

Fund upgrades to the women's locker room

Honor the Inaugural Pensacola State College Athletics Hall of Fame Class of 2019 and Class of 2020

Provide upgrades to the softball and baseball fields

Purchase recovery food for the athletes

Make the international travel for student-athletes signing




from other countries possible

Fund warm-up uniforms and shoes for the Women's Cross




Country Team

Support Military Appreciation Night with warm-up uniforms for the basketball teams

Raise $110,074.98 to support PSC Athletics
Captain
$500+
2 game passes
Booster section seating
Hospitality room access (basketball)
Free drink and snack at concession stand (softball, baseball, and volleyball)
PSC Booster gear (any item in the Booster Apparel Online Store)
Newsletter
Special Invitations
Recognition at an athletic event
Buccaneer
$250 - $499
2 game passes
Booster section seating
Hospitality room access (basketball)
Free drink and snack at concession stand (softball, baseball, and volleyball)
PSC Booster gear (Any item valued at $40 or less in the Booster Apparel Online Store)
Newsletter
Special Invitations
Swashbuckler
$150 – $249
2 game passes
Booster section seating
Hospitality room access (basketball)
Free drink and snack at concession stand (softball, baseball, and volleyball)
PSC Booster gear (Any item valued at $25 or less in the Booster Apparel Online Store)
Newsletter
Special Invitations