Three student-athletes were awarded the inaugural Carla Williams Award at the Pensacola State College Athletics Sports Banquet held on April 26 in Hartsell Arena.
Basketball players Zondrick Garrett Jr. and Douthshine Prien, along with softball player Susanna Soldi were selected for the award, which is presented to a student-athlete "who has demonstrated leadership in both practice and competition, has achieved academic success, knows what it means to cheer for others, has generously given their time to volunteer service, who's impact will not be forgotten, and who ultimately embodies everything it means to be a Pirate, just as Carla Williams did."
Men's basketball coach Pete Pena said the coaches felt that all three student-athletes deserved the award, which honors the late Carla Williams – a Pirates basketball player, coach, scholar, mentor and educator.
"We couldn't separate them (the three student-athletes) when it came right down to it," Pena explained to the attendees. "Next year, it may be only one recipient. We just don't know."
Williams, an associate professor at the college, died in May 2022 due to domestic violence. A native of Graceville, she spent more than 24 years working in Pensacola State athletics, Collegiate High and the Mathematics and Computer Science Department. After her death, the Carla Williams Memorial Endowed Scholarship was established to help lift, inspire, and support PSC student-athletes.
Garrett, Prien and Soldi – all standout student-athletes on and off the court and field ─ were among the many PSC Pirates to receive honors at the sports banquet.
One student-athlete in each sport was selected for the Presidential Award. The recipients were softball player Maddison Coones, cross-country runner Jabria Davis, volleyball player Paige Patterson, women's basketball player Keslynn Oxendine, men's basketball player Brendan Terry, eSports team member Jackson Clyde, and baseball player Preston Herce.
Individual sports award recipients were: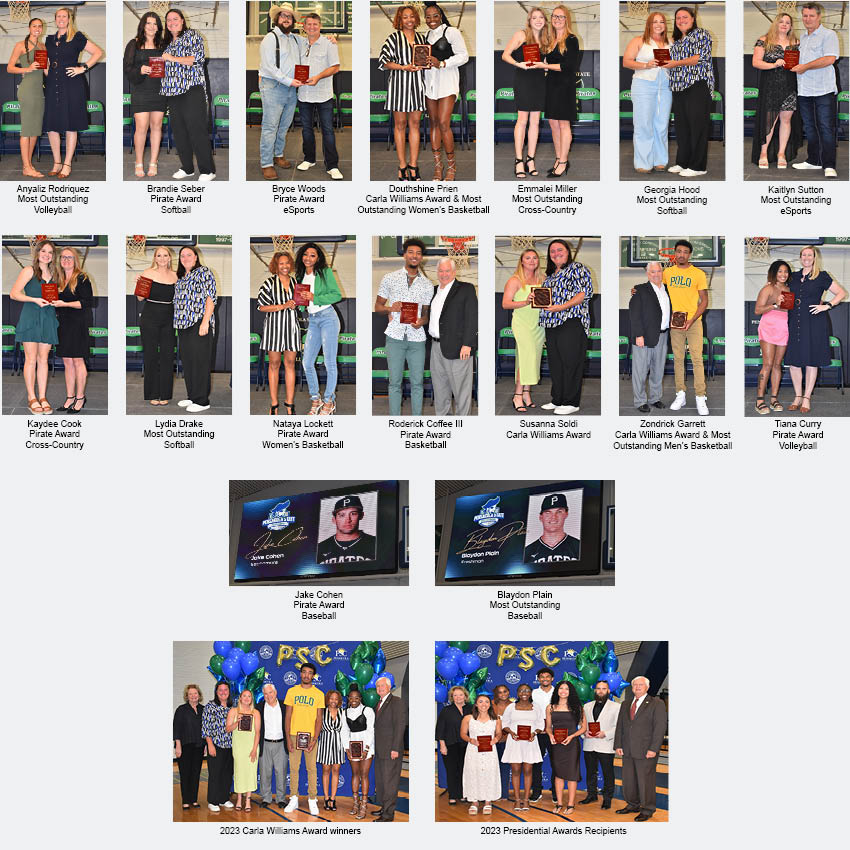 Women's Cross-Country
Kaydee Cook, Pirate Award
Emmalei Miller, Most Outstanding
Women's Volleyball
Tiana Curry, Pirate Award
Anyaliz Rodriquez Most Outstanding
Women's Basketball
Nataya Lockett, Pirate Award
Douthshine Prien, Most Outstanding
Men's Basketball
Roderick Coffee III, Pirate Award
Zondrick Garrett Jr., Most Outstanding
Softball
Brandie Seber, Pirate Award
Georgia Hood and Lydia Drake, Most Outstanding
Baseball
Jake Cohen, Pirate Award
Blaydon Plain, Most Outstanding
eSports
Bryce Woods, Pirate Award
Kaitlyn Sutton, Most Outstanding