April Huffman has been a Pensacola State College Culinary Program student for three years. She's received scholarships since her second semester. If she didn't, Huffman admits she probably wouldn't still be a student.
Huffman was one the talented PSC students who prepared scrumptious and elegantly-presented small dishes for friends and supporters of the College at the annual Garde Manger Celebration held Wednesday, July 20, in the Pensacola campus Delaino Student Center.
Garde Manger is an annual celebration when the College gives thanks to those who help fund scholarships, support faculty professional development and contribute financial support and services for infrastructure.
"Without scholarships, I would not be able to go to College,'' Huffman added. "I work full-time and am taking five classes. It's been a great blessing."
The event is hosted by PSC President Ed Meadows and the Pensacola State College Foundation.
"I want to thank everyone her for your support – your long-term support – of Pensacola State College,'' Meadows told Garde Manger attendees. "I want to thank you, particularly on behalf of our students who are provided scholarships and the faculty assisted with professional development. We couldn't do it without all of you."
PSC Culinary and Hospitality Management Instructor David Langham said the event is a great way for the students to thank donors and supporters as well as provide them an opportunity to show off their skills."
Retired Marine Gunnery Sgt. Chris Kirkland themed his food station ─ "The Cowboy Kitchen" ─ and went all out for the event, donning a cowboy hat and a red bandana.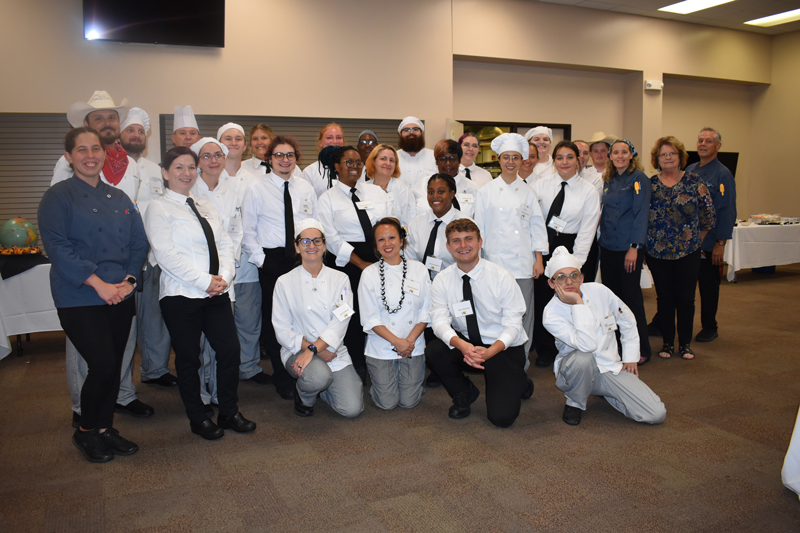 "It's a great program,'' said Kirkland, who started in the PSC Culinary Program in 2018. "Everyone here has really pushed me in the right direction and supported me. I'm not sure what I'm going to do when I graduate. I'm just walking through doors that open and I'm going to keep doing that."