Louisiana native and Pensacola State College alumna Carolyn Lungaro has been cooking gumbo for decades.
The Spring 2022 PSC culinary management grad recently showcased her skills in the Pensacola Gumbo Cookoff held April 22. Lungaro won first place in showmanship and second place in judges voting for her Mama C's Cajun Cookin' Chicken and Sausage Gumbo.
"I've been eating gumbo my entire life and cooking it since I was about 16," recalled Lungaro, who learned how to make the hearty stew from her grandmother and mother.
"I always would sneak in the kitchen and watch my Cajun grandmother (Aline Rodriguez) and my mother (Joyce Core) cook. Back then, they would run us, children, out of the kitchen, but I was anxious to learn and watch them cook.
"I remember my first time cooking gumbo. My brothers and sisters thought my grandmother made it. That was such an honor."
An outstanding Pensacola State student, Lungaro received several scholarships at the College, including the Cantonment Rotary Club scholarship. She also won a bronze medal at the SkillsUSA Florida 2021 Virtual State Leadership and Skills Conference.
"The scholarships helped me reach my dream of earning a college degree – something that I never considered possible when I was younger," said the 62-year-old who wants to own a food truck specializing in Cajun cuisine.
"I hope to wake up one day, go out my front door, and there it (the food truck) is. I wanted a food truck when I lived in Louisiana, and it was just a thought, then PSC helped me make it a dream. Now it's a goal."
Lungaro attributes the right blend of seasonings and boiled eggs to her winning gumbo recipe.
"I add 12 boiled eggs to my Chicken and Sausage Gumbo," she shared. "The boiled eggs soak up the gumbo's flavor and add something special. At the cookoff, people came back for two or three tastes because they fell in love with the delicious boiled eggs."
She also said she cooks everything from scratch.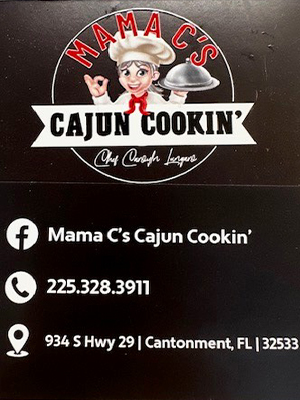 "I believe in doing it the long way. It's worth it. I even make my chicken stock. You can't beat that homemade taste," said Lungaro, who credits the College's culinary arts program with growing her talents.
"I never thought there was food beyond Louisiana until I enrolled in culinary school," Lungaro admitted.
PSC Culinary and Hospitality Management Associate Professor Jimmie Langham said he was not surprised Lungaro placed high in the gumbo cookoff.
"Carolyn was always an exceptional student and diligent throughout her classes," he said. "I wish her good luck in any endeavor she pursues."
Lungaro said she never expected to place in the gumbo cookoff.
"I was just trying to get my business – Mama C's Cajun Cookin' – some exposure," she said. "I wasn't expecting to win anything."
She said once her business is up and running, she plans to give back to those in need.
"I want to do disaster relief. I remember firsthand what it feels (after the 2016 floods) like to have a good hot meal after suffering through a natural disaster. I also want to feed the homeless," Lungaro said.
Lungaro thinks it was her presentation style when asked about placing first in showmanship.
"I mingled with the crowd, really talked to the attendees on a person-to-person basis," said Lungaro, who added it was her first time competing in a gumbo cookoff.
"I was nervous but don't worry. I plan to compete in the Shriners Gumbo Cookoff in the fall."