For many students attending Pensacola State College, there is a lingering question at the forefront of their minds; "What's next?" Whether they are recent high school graduates, continuing education students, first-generation students, or those going back to school, their reasons for attendance share one key similarity: Pensacola State College is their springboard.
To get from acceptance into Pensacola State College to graduation, scholarships and financial aid make a remarkable difference. Organizations such as the Cantonment Rotary Club create lasting change in their community by ensuring that PSC students get the help they need to chase their educational aspirations.
The Cantonment Rotary Club supports six endowed scholarships at Pensacola State College and in this school year, they have supported students with $23,000. Two of these students received support through $500 scholarships awarded during an annual celebratory scholarship luncheon. Club members were excited to recognize the Fall 2023 recipients and enjoyed hearing the students' expressions of gratitude and future plans.
Ella Thompson, one of two recent recipients of the Cantonment Rotary Club Culinary Endowed Scholarship, chose PSC to help realize her childhood dreams of becoming a professional chef and skilled restaurateur. It was only when she began the Molly McGuire School of Culinary Arts program at Pensacola State College that she discovered a hidden passion and greater purpose for her dream.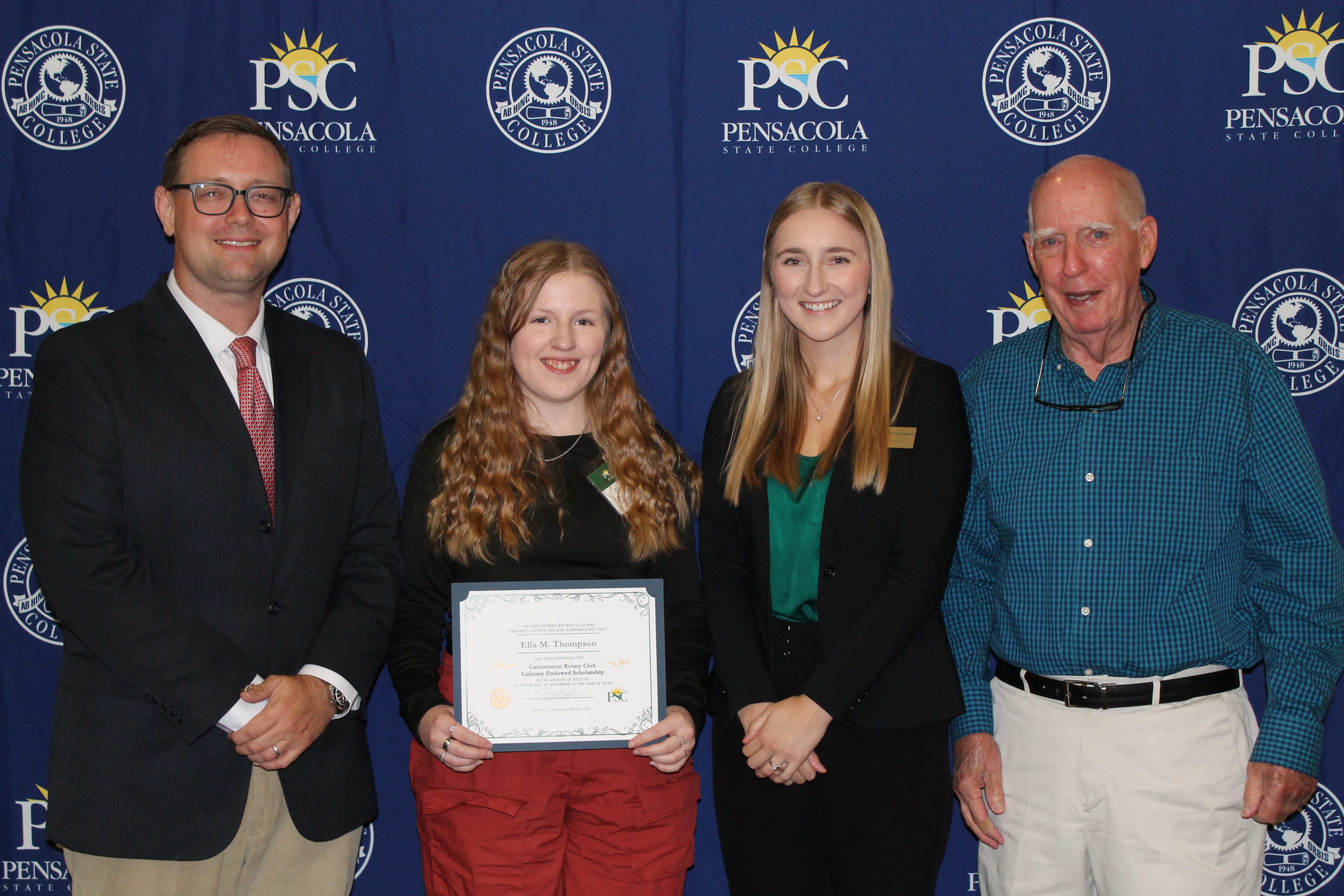 "About five years ago, I discovered I had an allergy to gluten, and I had to eliminate so many foods that I love from my diet," Ella explained. "This forced me to start cooking gluten-free foods and learn new and different recipes. I then began to dream about one day opening a gluten-free bakery. My only issue with this dream was that I was not a great baker."
Once she began classes in culinary management, Ella's knack for baking and creativity in the kitchen blossomed. "Chef Mike Hartsaw, who teaches our baking class, has helped me out so much and provided gluten-free flour so that I could learn and experiment with different recipes."
After graduation, Ella hopes to answer a need in the Pensacola market by opening an affordable, gluten-free bakery. She wants people to enjoy the sweet treats that they cannot normally experience.
Rayshawn J. Stallings felt a higher calling pushing him to pursue a degree in culinary management at Pensacola State College. "Truthfully, I felt God telling me to go back to school, despite knowing I might not be able to afford it," Rayshawn shared.
Following a move from New York to Pensacola during the pandemic, Rayshawn responded to the spiritual pull he felt to explore what the College had to offer. With the knowledge he's gained under the instruction of the PSC Culinary Arts Department, he aspires to continue to grow and develop his small business, F.A.S.T. F.E.A.D.S. (Feeding Soles, Reaching Souls).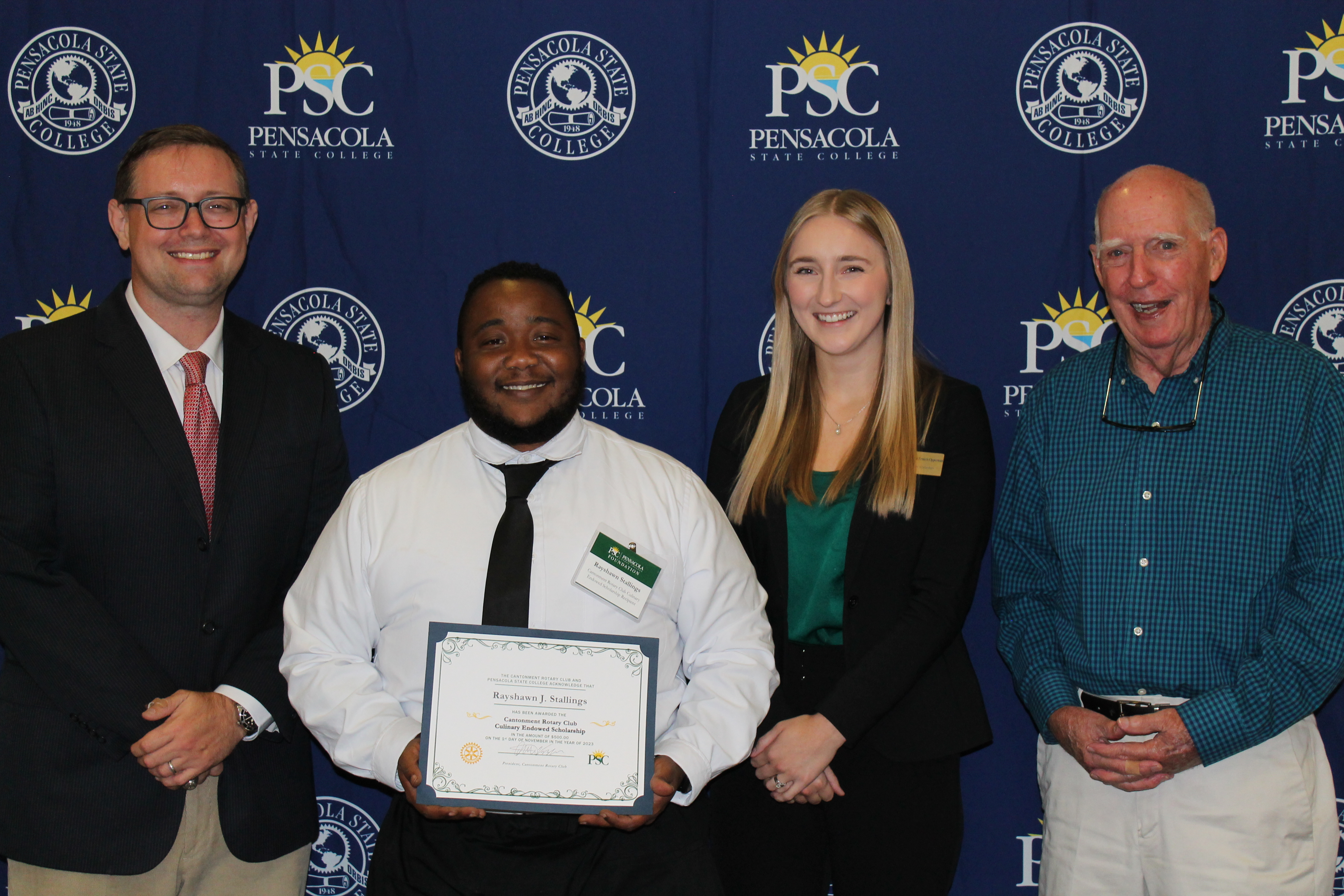 Feeding All Souls/Soles Together with Food, Encouragement, Assignment, Discernment, and Service (F.A.S.T. F.E.A.D.S.) was an idea that came to Rayshawn during a time of reflection and fasting. With his business, he wants to be able to serve others physically and spiritually.
"I want to bring a service that is not just needed for the poor or homeless, but for anyone that needs their bellies fed and spirits uplifted while receiving a blessing. I believe that God has given me a gift but has also given me a heart for others."
Rayshawn acknowledged that he would not be where he was today without the aid of the Club and his instructors. "It's so amazing," he expressed. "Everything since I've applied for school has been taken care of. All the opportunities that I've had up to now, in my third semester, have given me such a deep appreciation for this assistance."
Cantonment Rotary Club President, Dustin Vaughn, was delighted to meet both endowed scholarship recipients during their annual luncheon on Wednesday, November 1 and shared the Club's motivation for this support.
"At Cantonment Rotary, offering scholarships is a direct benefit to the community," Vaughn stated. "With each scholarship given out, the benefits continue to spread. It's a direct investment that leads to more economic and social development."
As he eagerly awaits his return to Pensacola State College for next year's scholarship luncheon, Dustin shared some of the other community-focused plans he hopes to implement while in office, such as the distribution of 950 water safety books to elementary students for an ongoing project with Escambia County and the provision of meals to over a thousand individuals this upcoming Thanksgiving.
For more information or to support Pensacola State College scholarships and endowments visit our website at https://foundation.pensacolastate.edu/opportunities-to-support-psc/scholarships/ or contact Director of Foundation Scholarships, Mikenzie Francis-Opperman, at (850) 484 – 1788 or mfrancis-opperman@pensacolastate.edu
To apply for scholarships at Pensacola State College, please visit https://financialaid.pensacolastate.edu/scholarships/ 
For more information and to contact the Cantonment Rotary Club visit their website at https://cantonmentrotary.com or their Facebook at https://www.facebook.com/rotary4230
For more information and to contact Rayshawn J. Stallings and his business F.A.S.T. F.E.A.D.S. (Feeding Soles, Reaching Souls) visit his Facebook at https://www.facebook.com/Fastfeads, his Instagram at https://www.instagram.com/fastfeads838/, email fastfeads@gmail.com, or call (646) 234 – 6650