The effects of Florida Blue's impact on our community are far-reaching, as was shown through the November 7 celebration of over $600,000 in grant funds awarded to fifteen local organizations and institutions that perform meaningful work in Florida Blue's three largest priority areas: health equity, food security, and mental well-being.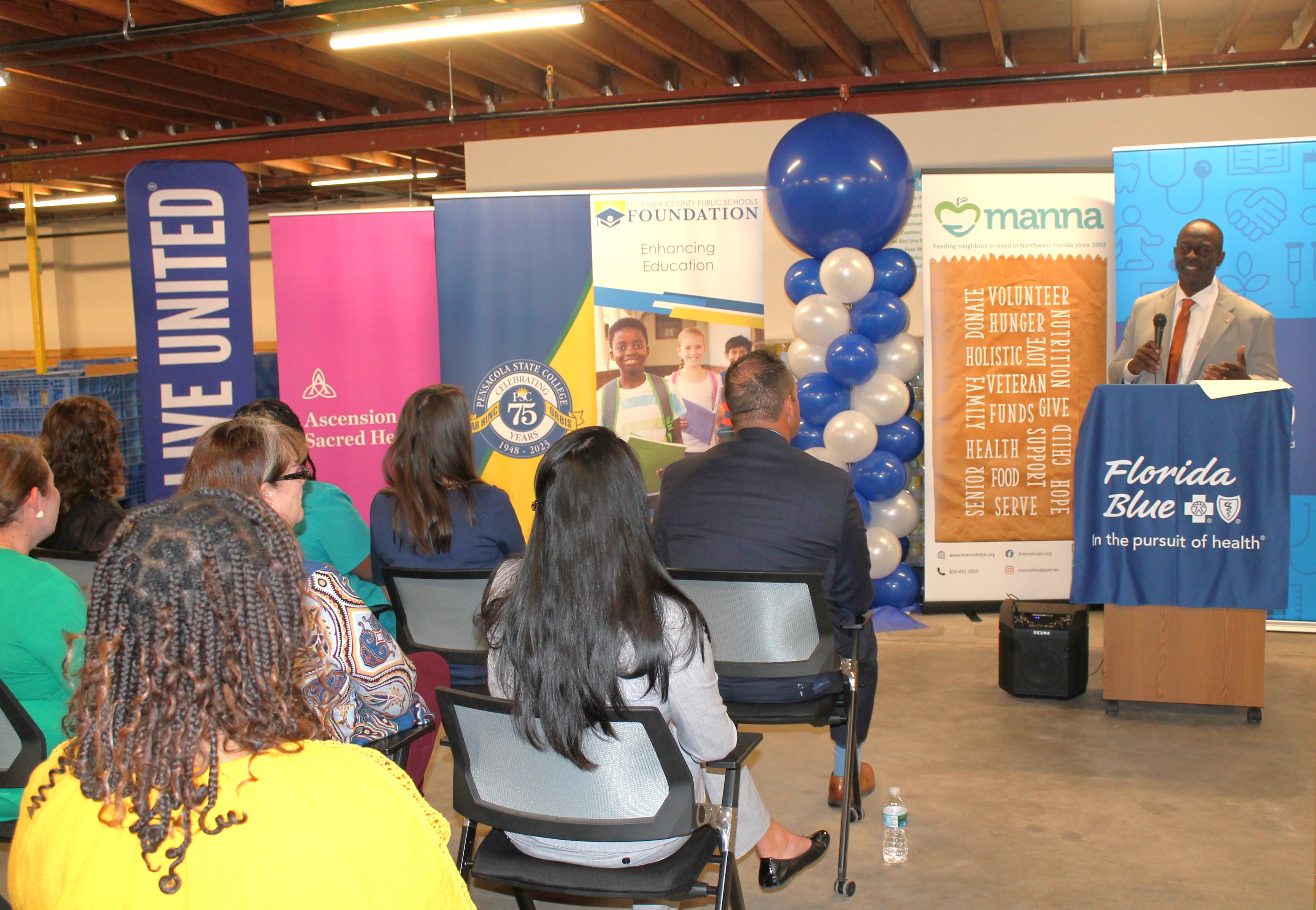 Darnell Smith, Market President for the North Florida region of Florida Blue, led the day's program with special acknowledgments to all recipients. "We absolutely can't do it without you," Darnell stated. "This is our way of bringing you together. We appreciate this partnership, we appreciate what we do together, and you can count on us to make certain that together we make a difference."  
Florida Blue has an inspiring commitment to investing in the community, and a rich history of support with Pensacola State College (PSC). For thirty-two years, Florida Blue has encouraged educational excellence through scholarships and scholarship contributions at PSC. Now, with an additional investment of $300,000 in the PSC Pirates CARE program, Florida Blue's funding will help provide invaluable support for mental health resources at Pensacola State College. Florida Blue generously makes this gift while continuing its support of first-generation students and students enrolled in allied health programs via a $10,000 donation split evenly between the First Generation Scholarship and the Florida Blue Allied Health Endowed Scholarship. Florida Blue's $5,000 contribution to the First Generation Scholarship will be matched 2:1 by the State, tripling its positive impact on students and turning the $5,000 gift into $15,000! 
The Pirates CARE Student Resource Center, which provides free and accessible resources to students at PSC, will use this new funding to provide a "comprehensive approach to mental well-being across Escambia and Santa Rosa counties." Trauma-informed counseling; case management services for low-income, high-need, or at-risk students; and mental health first aid training for caregivers and guardians will all be incorporated into the Pirates CARE services over the span of the next four years. 
Florida Blue began its support of a then Pensacola Junior College in 1992 with a donation to the Fund for Excellence, which is used to meet the College's greatest needs. Since then, Florida Blue has expanded its generosity with the establishment of the Florida Blue Allied Health Endowed Scholarship.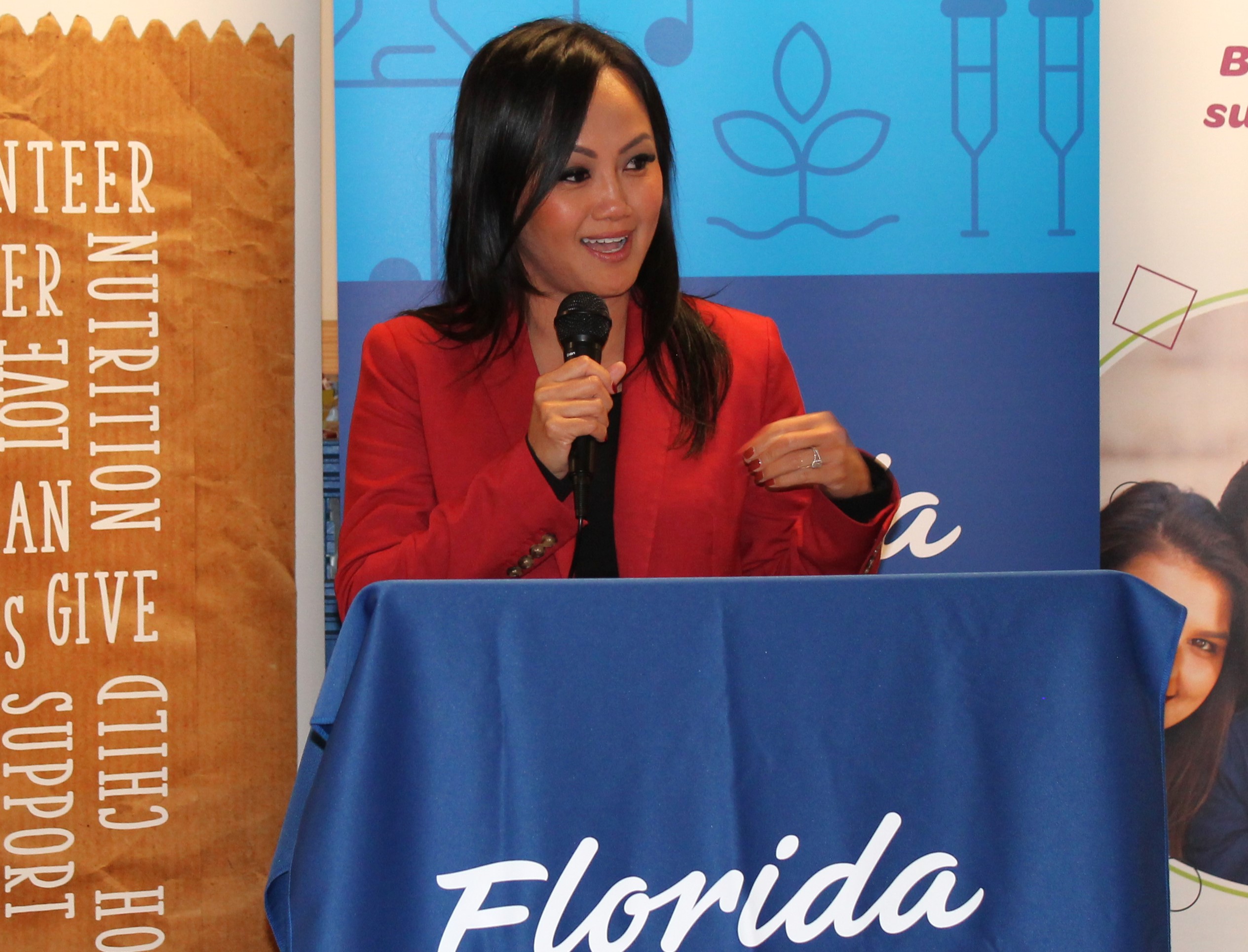 By investing in PSC health science students with scholarship support, Florida Blue is helping shape the future of our community's healthcare. 
Senior Director of Regional Business Development for Florida Blue, Hong Potomski, closed out the celebration. "We know that change starts within our community, and it starts at home. We're very grateful for the relationship that we have with you all, because you're making that change happen." 
Other organizations recognized during the announcement include the University of West Florida College of Health/Nursing, Escambia County Public Schools Foundation, United Way of Northwest Florida, Covenant Care Foundation, Manna Food Pantry, Ascension Sacred Heart, United Way Emerald Coast, Pace Center for Girls, United Service Organizations Home for the Holidays, Toys for Kids Foundation, Boys & Girls Clubs of the Emerald Coast, and Children's Home Society.  
For more information about Florida Blue and the Florida Blue Foundation, visit the following pages here https://www.floridablue.com/about-us/our-story and here https://www.floridablue.com/foundation 
To get connected with the Pirates CARE Student Resource Center and view available resources, visit https://www.pensacolastate.edu/piratescare/ or contact them at PiratesCARE@pensacolastate.edu or (850) 484–1759 
For more information about supporting scholarships at the Pensacola State College Foundation, such as the Florida Blue Allied Health Endowed Scholarship, please visit our website at https://foundation.pensacolastate.edu/opportunities-to-support-psc/scholarships/ or contact Director of Foundation Scholarships, Mikenzie Francis-Opperman, at (850) 484–1788 or mfrancis-opperman@pensacolastate.edu  
To apply for scholarships at Pensacola State College, please visit https://financialaid.pensacolastate.edu/scholarships/. If you are a student with questions about your financial aid or the scholarship application, please join the PirateQ here https://www.pensacolastate.edu/pirateq/ to be connected with the team member best suited to assist.