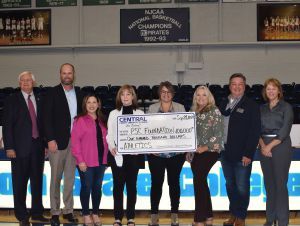 Published: 09-27-2021
Troy Moon, Pensacola State College
Central Credit Union of Florida has pledged $100,000 over a five-year period to the Pensacola State College Athletics Department.
Danny Gilman, chairman of the CCUFL Board of Directors and a PSC alumnus, made the gift announcement Monday, Sept. 27, at a press conference in the College's Hartsell Arena.
"Today, we are strengthening our commitment to funding the athletics program because we believe future leaders are groomed through PSC's team sports and your strong focus on academic excellence,'' Gilman said. "Our commitment to provide $100,000 to support the future leaders developed through PSC's athletics program is a signal of our believe in your work and the value that work provides to our members."
Pensacola State President Ed Meadows called the gift-pledge "a shot in the arm for athletics."
The $100,000 gift will benefit the College's six athletic programs – baseball, softball, men and women's basketball, cross-country and volleyball.
Each program will receive a percentage of the donation based on roster size. The softball program will receive an additional percentage and the credit union will gain naming rights to the College's softball field. The field will officially be named later, though there is already CCUFL signage and branding on the windscreen around the outfield fence on the softball field.
A portion of the donation also will go to the College's General Athletics fund.
"Not only are we extremely excited to have the loyal support of Central Credit Union, but we are thrilled to highlight them as the outstanding community-driven organization that they are,'' said PSC Booster Club Director Hailey Lotz, who is also the PSC Alumni Association director. "A gift this size is a wave of momentum for athletics."
CCUFL has been a longtime supporter of PSC Athletics having donated more than $12,500 over the last five years.
"This is huge,'' Lotz said. "It's been a trying year for athletics (because of COVID-19) so this comes at an amazing time."
Meadows noted that CCUFL has supported various PSC endeavors, from supporting the PSC Fund for Excellence and various College fundraising events, including Days of Clay and the Big Break Golf Tournament.
"This is a great day,'' Meadows said. "Our coaches and athletic directors couldn't be more happy to have this kind of gift for athletics."
PSC Athletic Director and head baseball coach Bryan Lewallyn told the CCUFL delegation at the press conference that the College "appreciates you and what you mean to Pensacola State College. We look forward to building and cultivating this relationship."
TOP PHOTO: Pensacola State College administrators and coaches are pictured with Central Credit Union of Florida employees during a Monday, Sept. 27, press conference where CCUFL pledged a $100,000 donation over a five-year period to the PSC Athletics Department. Pictured are, from left, PSC President Ed Meadows, PSC Athletic Director and Head Baseball Coach Bryan Lewallyn, CCUFL President and CEO successor Lisa Brown, retiring CCUFL President and CEO Carolyn "Beanie" Dwelle, PSC Booster Club Director Hailey Lotz, PSC Foundation Board of Governors member Damaris Gonzalez, CCUFL Marketing Manager G. Todd Cunningham, and PSC Executive Director of Institutional Development Andrea Krieger.