Couple's support of college goes beyond major $100,000 gift
By Troy Moon, Pensacola State College
Dona and Milton Usry came from Oklahoma to Pensacola in 1986 and Pensacola State College – and Northwest Florida – found lifelong friends and supporters.
The couple's support of PSC is substantial and inspiring – and not solely because of the Usrys' $100,000 donation to PSC in 2019, a gift that established the Dona and Milton Usry Endowed Accounting Scholarship. The monetary support is staggering, but it continues a dedication to PSC that goes far beyond financial support.
On Jan. 21, Pensacola State College honored Dona and Milton Usry, who have become personal and appreciated friends to many in the PSC family, including college president Ed Meadows.
The Usrys, along with friends from within and outside the PSC family, gathered in the PSC Board of Trustees Room which, after its dedication, became the Dona and Milton Usry Board Room. At the same ceremony, a portrait of the Usrys was unveiled in the Pensacola State College Hall of Honor. (Dona Usry said one of her favorite touches in the portrait is the framed photos of her family in the background.)
"They are true friends to Pensacola State College and, personally, to so many of us here," said Meadows, who told the attendees of Dona and Milton's loyal concern when Meadows was ill a few years back.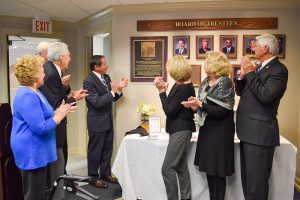 The establishment of the Dona and Milton Usry Endowed Accounting Scholarship will assist accounting students for generations to come, said Doug Bates, past president of the PSC Foundation Board.
He told the Usrys that their contributions will work to produce success "beyond anything they can imagine."
"We get to come to PSC, and we get to see the students walk the halls, graduate, leave, start families, feed their families and do all the things we want graduates to do," Bates said. "But we can't do it alone."
Dona Usry's history with PSC dates back to 1999, when she served on the PSC Board of Trustees until 2014. She served two terms – 2005-2006 and 2006-2007 – as board chairwoman. She is also a member of the WSRE-TV Foundation Board of Directors.
Known as a cheerleader for PSC, she's a frequent name on the PSC Facebook page, even sending out well-wishes to students or instructors she reads about who have made positive news in the school and throughout the community.
Milton Usry was an esteemed educator even before he arrived in Northwest Florida. He was Regents Professor of accounting for 25 years at Oklahoma State University before the couple moved to Northwest Florida. Upon arrival he joined the University of West Florida accounting faculty, gaining legendary status at the university. He was named UWF's first Eminent Scholar as well as the Mary Ball Washington Professor Emeritus of Accounting.
PSC is not alone in reaping the benefits of the Usrys' support. They have been longtime and major supporters of groups ranging from the Pensacola Symphony to Manna Food Pantries. But Dona Usry admitted a special love for PSC.
"The leadership at Pensacola State College at this time prompted us to go ahead and give this gift," she said. "We were so pleased to become involved with Pensacola State. It's one of the best things we ever did."
Dedication of Dona and Milton Usry Board Room at PSC

Posted by Pensacola State College on Tuesday, January 21, 2020