Troy Moon, Pensacola State College
When the Legacy Worship League began singing "Lift Every Voice and Sing" the older folks in the crowd began standing first, recognizing the familiar strains of the song that is referred to as "The Black National Anthem."
But soon, every person in the packed Jean and Paul Amos Performance Studio stood, many joining in singing the inspirational hymn – "Lift Every Voice and Sing," indeed.
Pensacola State College celebrated its diversity and commitment to minority students on Feb. 28 at the annual African American Memorial Endowment Scholarship Program and the Dr. Garrett T. Wiggins' "Live Your Dream" Scholarship Banquet. Eight students received scholarships that will help them continue their education at PSC.
Three students ─ Kiara Betts, Kaytrenia Boyd and Shanel Gainey ─ received the Dr. Garrett T. Wiggins' "Live Your Dream" Scholarship. Five students received the African American Memorial Endowment Scholarship: Bryanna Bush, Alvin Gordon Jr. Akira Hunter, Makya Richardson and Alexus Turner.
Wiggins was the president of the all-black Booker T. Washington Junior College when it merged with then-Pensacola Junior College in 1965. The Dr. Garrett T. Wiggins "Live Your Dream" scholarship was established in 2005.
"It's a great honor," said Gordon, one of the African American Memorial Endowment Scholarship recipients. "It means a lot that the committee thought I was deserving."
Gordon is a PSC nursing student with big plans and dreams.
"My ultimate goal is to become a nurse anesthesiologist," Gordon said, noting that he would have to earn a master and doctorate degree to achieve that goal. "I almost don't want to think about it too much and just take it one day at a time. But (the scholarship) is a huge blessing."
PSC President Ed Meadows said scholarships are important to the college and the community.
Scholarships "bring to this college every year young talent that otherwise would not be able to go to college," Meadows said.
The evening was packed with colorful, inspirational moments, from members of the Omega Psi Phi fraternity performing a high-octane step routine to guest speaker Rodney Jones' forceful message of overcoming obstacles.
"You do not have to allow how you started in life to dictate how you finish," said Jones, founder of New World Believers, a Pensacola ministry he founded after a stint in prison and a spiritual and personal reawakening. "I found myself living and matriculating in the bowels of poverty. I allowed my circumstances to dictate my path. It paralyzed me."
The event was presented by the PSC History/Multicultural Committee, with Rameca Vincent Leary, PSC's Coordinator of Diversity Initiatives, coordinating each aspect of the event, from catering to entertainment and speakers.
"It's a great evening," said Pensacola City Councilman John Jerralds, who attended the banquet. "Great food, great entertainment and a great, great cause."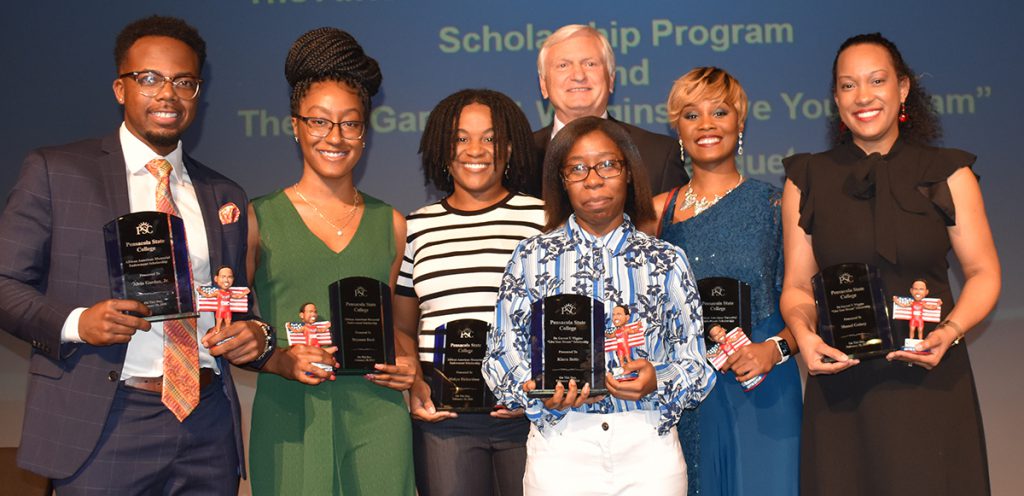 The Dr. Garrett T. Wiggins "Live Your Dream" Scholarship Banquet

The African American Memorial Endowment Scholarship Program and The Dr. Garrett T. Wiggins "Live Your Dream" Scholarship Banquet took place Feb. 28 at the Jean and Paul Amos Performance Studio. Eight students received scholarships, which will help them continue their education at Pensacola State College. Video by Troy Moon.

Posted by Pensacola State College on Monday, March 2, 2020