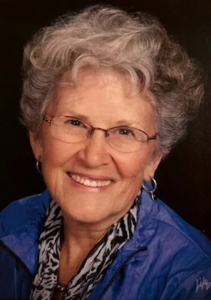 Ginger Lee McMullen Moore has departed this earthly soil and has moved on to tend heavenly gardens. She passed away on Tuesday, June 21 with family by her side. She experienced a lifetime of intellectual curiosity, exploration, learning, imparting assistance to others, and unending personal growth.
Ginger was born on January 12, 1939, in Flomaton, Alabama to WC and Wiloneze McMullen. The oldest of five siblings, she attended Atmore High School and worked at the Bank of Atmore in her teens. Inspired by her dear Aunt Bess, she attended Pensacola Junior College from 1958-1960, meeting many of her lifelong friends and future husband, Edward.
Florida State University was her next stop (even though her love was attending rival UF) where she continued a passion for the biological sciences that ignited at PJC. This passion lasted her lifetime and merged seamlessly with the deep spiritual connection she found in the natural world. Her plucky, adventurous spirit led her to sign on with TWA in 1962 as a stewardess during the golden age of air travel, living in Los Angeles and visiting cities across the country absorbing its variety of people, food, and places, and opening her eyes to the world.
In 1964, she married her PJC schoolmate H Edward Moore, Jr and after a brief role as a US Marine wife settled into Pensacola for good enjoying a loving and strong partnership with Edward for 58 years. She was an adoring and inspiring mother of three children who all experienced the blessing of raising their own children under the embrace of Ginger's wisdom, dignity, and quiet but ardent devotion. Ginger's infectious curiosity of the world around her was boundless and enriched the lives of her family, friends, and community.
She was a nurturer of people sharing her knowledge and support to others in a myriad of ways throughout her life, much of them focused on nature, history, and culture. From coordinating the Elderhostel program for University of West Florida and co-founding the Western Gate Chapter of the Florida Trail Association, to creating the Bar Talk lecture series at the Pensacola Country Club at the age of 78, she constantly sought to learn and share. She also actively served her community beyond her personal interests, serving as an Elder of Trinity Presbyterian Church, a member and State Officer of the Junior League, commissioner of the Pensacola Housing Authority, Board of the Pensacola State College Foundation including serving two years as chair of the Annual Fund campaign. She was recognized in 2017 by having the first PSC Alumni Endowed Scholarship established in her name. Her other contributions to the community are too numerous to list. She was rarely idle in this life.
Ginger's solace was in the wonder of nature. Evident by her magical ability to create sacred natural spaces in her gardens and home, her adventurous pursuits in waters and forests, and her deep knowledge of the history and natural world of her beloved Florida. Whether embracing the bonds with her four siblings or finding ways to delight each of her eight grandchildren, her love was rooted in deep thought of every individual. We celebrate and thank her for that gift.
Ginger Lee Moore is survived by her loving husband, Edward; her three devoted children, Hayley Gossett (Lewis), Robin Moore (Jenny), and Jennifer Scherer (Scott); her adoring 8 grandchildren, Katherine Dunnagan (Seth), Mattison Gossett (Amy), Grayson Gossett, Caroline Gossett, Celia Moore, Corinne Moore, Macy Scherer and Colton Scherer; her great grandchildren Ford and Cooper Dunnagan; sisters Sara Fountain (William) and Phyllis Smith as well as her brother, Joe McMullen, and numerous cousins, nieces, nephews, and friends. She is preceded in death by her parents and sister, Kay Bryan.
A memorial service in celebration of her life will be held at 10:30 am Saturday, June 25th at Trinity Presbyterian Church. A reception will follow. Memorial contributions can be made in loving memory of Ginger to Pensacola State College Foundation for the Ginger McMullen Moore Endowed Scholarship or to The Western Gate Chapter of the Florida Trail Association. To attend the service for Mrs. Moore via livestreaming please go to June 25, 2022  Ginger Moore Memorial Service
Ginger Lee McMullen Moore Obituary – The Pensacola News Journal (pnj.com)