By Troy Moon
Pensacola State College
James Reeves was named a Pensacola State College Foundation Fellow on Monday in honor and appreciation of his significant and steadfast support of the College.
There have only been nine Foundation Fellows named since the College's inception in 1948.  A portrait of Reeves was unveiled and is now enshrined along with portraits of the other Foundation Fellows in the PSC Hall of Honor outside the Milton and Dona Usry Board Room in Building 7. The Usrys were named Foundation Fellows in 2019.
A PSC Foundation Fellow is an honorary title bestowed on individuals and families who have worked to strengthen PSC through their influence and significant financial contributions.
Reeves has given $260,000 to the College and now has an endowed scholarship in his name. He has also helped raise significant funds for other endowed scholarships.
PSC President Ed Meadows said that Reeves, a longtime Pensacola power broker, introduced him to many other donors and supporters.
"I would say 'Thank you, Jim,' and he would reply, 'It doesn't matter who gets the credit as long as the job gets done,' ''Meadows said, "Today, you're getting credit, you deserve the credit and you deserve the acknowledgement for what you've done, not only for PSC but for our community."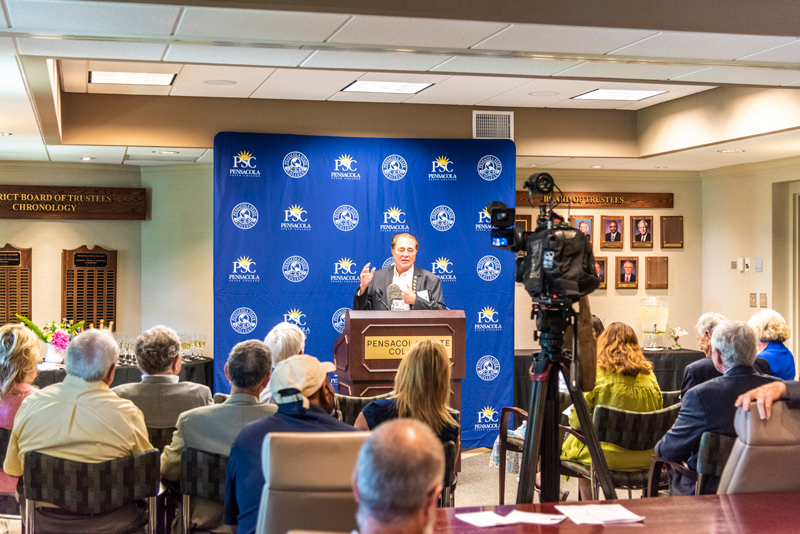 Reeves influenced three other prominent and generous Pensacola families to join him in giving $1 million to fund scholarships for STEM-related programs at PSC.
In appreciation, the PSC Board of Trustees voted to name Phase II of PSC's STEM facility in honor of the families. The building will be named the Bear, Jones, Moore, and Reeves Center for Math and Advanced Technology when it opens in 2023.
True to his reputation, Reeves tried to deflect praise.
"I really don't care who gets the credit as long as the job gets done,'' Reeves said, proving Meadows' statement. "But I am honored and appreciate all of you."
Reeves is a Pensacola real estate attorney, developer, and former legislator who served in the Florida House of Representatives and on the Pensacola City Council.
He is co-founder of the Irish Politicians Club and has been instrumental in the success of many generations of Pensacola leaders.
He was selected for the top spot in the 2018 Inweekly Power List, just one more accolade in the litany of honors that tell a story of his impact.
His friend, PSC's longest-serving Board of Trustees member Carol Carlan, said Reeves' contributions "make this institution affordable to students" who go on to "be employable and have successful careers. I've seen him do many wonderful things in our community."
Reeves led the charge to establish the Molly McGuire Culinary Arts Endowed Scholarship. Annually, Reeves uses his influence to ask each member of the IPC to donate $100 to grow this fund.
He has been a PSC Foundation Governor since 2006.
Trey Poirier, President of the PSC Foundation Board of Governors, said "people like Jim are few and far between in our community."
Reeves is active on the boards of the Institute for Human and Machine Cognition, Pensacola Cultural Center, Pensacola Jaycees, Gulf Breeze Rotary, and the Downtown Improvement Board.  Reeves serves as a trustee for the Gonzalez United Methodist Church and the Community Maritime Park Associates and is a longtime supporter of the Pensacola Little Theater.