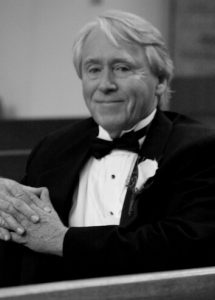 Larry Bracken, 78, passed away peacefully at home on July 3, 2022. Larry was born in Fort Smith, Arkansas to the late Joyce Bracken of Fort Smith, AR and Herbert Johnson of Fort Pierce, FL. Larry attended Harvard University and Arkansas Tech University where he received a Bachelor of Arts in Philosophy and later attended the University of Arkansas at Little Rock where he received his Master of Arts in Journalism. In 1966, Larry joined the Peace Corps and served until 1968 in Truk in the South Pacific, followed by an additional two years where he coordinated support for 25 elementary schools across 23 islands. Larry returned to Arkansas where he met his future wife, the late Ellen Bracken. Larry, Ellen, and their daughter Mary Margaret moved to American Samoa for four years where he worked for the Office of the Governor. The family returned to Arkansas along with their newborn son, Quentin, where Larry worked as the Assistant to the President for Public Relations at Garland County Community College. In 1983, Larry and the family moved to Gulf Breeze, Florida, where Larry served as the Director of College Advancement for Pensacola Junior College. In 1995, Larry became the Executive Director of Government Relations where he was responsible for all government relations at the federal, state, and local levels. In 2011, Ellen passed away after a lengthy illness and Larry retired from Pensacola State College. In 2012 Larry married Diane Baxter where they continued to live together in Gulf Breeze, FL. Together they traveled to New York, Paris, Key West, Seattle, and Dallas.
In lieu of flowers or gifts, the family has established the Larry Bracken Endowed Scholarship for Journalism at Pensacola State College.
Contribute to the Larry Bracken Endowed Scholarship for Journalism to honor his memory and extend his legacy at the College.  This love and support of his family will be acknowledged as gifts are made.