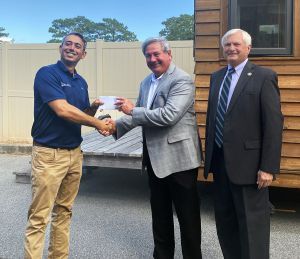 Published: 08-18-2021
Troy Moon, Pensacola State College
Local builder Amir Fooladi didn't put his or his company's name on the endowed scholarship he established to help Pensacola State College students hoping to enter the construction field.
The goal of the PSC Student Constructors Endowed Scholarship isn't to build the Fooladi name. It's to help strengthen the College's workforce commitment and supply Northwest Florida with more qualified workers in the construction and contracting trades.
On Tuesday, Aug. 17, the endowed scholarship was announced at a press conference held outside Building 18 (building trade work and storage area) on the Pensacola campus.
"One of the biggest hurdles in our industry right now is finding good people and having a skilled labor force,'' said Fooladi, president and CEO of ParsCo, a Pensacola construction firm. "This scholarship isn't about me. It's about our industry."
OK, it might be a little bit about his company.
"It may be a little selfish,'' Fooladi said. "Because anybody who comes out of these programs hopefully will come work for me or my subcontractors."
Fooladi's initial scholarship gift was $13,500, with $1,000 of that immediately awardable for scholarships. Two students in the building construction program are current beneficiaries of the $1,000 gift.
The PSC Alumni Association matched the remainder — $12,500 — to establish the current $25,000 endowment fund. Students who apply for the scholarship must be enrolled a construction industry program such as carpentry, electrical, mechanical, plumbing or drafting design.
PSC President Ed Meadows said Fooladi's many contacts in the industry will inspire others to donate to the scholarship.
"This scholarship is being unselfishly named so that others in the construction industry can donate toward this scholarship so that it will become larger than it is today,'' Meadows said. "We have Amir to thank for this initial commitment."
A board member of the Home Builders Association of West Florida, Fooladi said others in the association will support the scholarship.
"I really want to see this grown and I've called out all my fellow members of the Home Builders Association,'' he said. "I've received verbal commitments from builders and contractors. We can pool our money into one scholarship and really see this scholarship grow so we can really make a difference."
Michael Listau, PSC Workforce director, echoed Fooladi's call for more qualified building trade workers in Northwest Florida.
"I think it's obvious to almost everyone in the industry that there are workforce shortages in all areas,'' Listau said. "These scholarships will go to students who want to fill those vacancies."
Hailey Lotz, director of the PSC Alumni Association and Booster Club Operations, agreed with Listau.
"After hearing about the programs, we had to offer, Amir saw an opportunity to help his local community,'' Lotz added. "What's even better, he hopes this scholarship will not only bring students into these programs but become an avenue for other business leaders to be involved."
Fooladi earned a bachelor's degree in construction engineering from the University of Southern Mississippi. He is an adjunct instructor at the University of West Florida where he teaches construction administration and contract law.
After graduating from USM, Fooladi worked for several contractors. He started ParsCo in 2005. Company projects include the current Brent Lofts project in downtown Pensacola and the historic Marston Quina renovation. The company also recently completed construction of the Eglin Gulf Test and Training Range at Facility at Eglin Air Force Base.
Fooladi began considering funding a PSC scholarship after attending the annual PSC Alumni Association Quail Hunt and Pheasant Shoot held in fall 2020. He has already established scholarships at UWF, USM and the Mississippi Gulf Coast Community College.
"This is basically my way of giving back to the industry that has given me so much,'' said Fooladi, a married father of three. "I want to help aspiring young students find their paths the way I found mine."
PHOTO: Amir Fooladi, left, with Lane Harper of the PSC Foundation and PSC President Ed Meadows.