To establish an endowment in memory of Bill Clover in support of scholarships for aspiring student artists.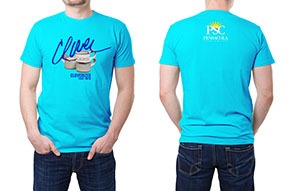 Clover Shirts!
Limited quantities of commemorative t-shirts remain.  Current sizes available are listed below and are available for a minimum donation of $20 each.
XXL – 4
L – 2
M – 5
S – 6
Call (850) 484-1560
It is our pleasure to welcome you to the Clover Memorial Auction.
Though Bill Clover passed away in May of this year, the memory of this beloved Pensacola State College visual arts professor will continue to impact the lives of future students.  Funds from the auction will go toward the establishment of the Bill Clover Endowed Scholarship.
Known for his ceramic pottery, Clover worked at Pensacola State from 1966 until his death on May 7, 2018. He was the institution's longest-serving faculty member ─ having spent nearly 52 years at the College.
If you would like to make a donation in memory of Clover, please click here.  You are also invited to bid on the following items, including the iconic Clover bowls and mugs. If you are outbid on an item, you will receive an email. Additional information about the online auction is available if you call 850-484-1560.
Dr. Edward Meadows     
President, Pensacola State College
[]
keyboard_arrow_leftPrevious
Nextkeyboard_arrow_right