By Melissa Cole, Pensacola State College Foundation
On May 11, attendees of the Pensacola State College Nonprofit Center for Excellence Human Resources training had the opportunity to learn valuable information and engage with four highly experienced HR professionals.
Speakers for this training included Brenda Kay Hammel with Express Employment Professionals, GinNeal McVay with Amplified HR Solutions, and two of PSC's own: Tammy Henderson, Human Resources Director and Mel Miner, Employment Services Manager.
Those who attended the training on Thursday sung high praise of their experiences. "You can sit on either side of the table and benefit from what's being taught," attendee Alma Lett expressed. "It's very informative in such a practical and positive way, it's so unique!"
On top of instruction in best practices and effective methods for organizational success, speakers shared facts and figures that gave insight into the importance of a strong HR strategy for nonprofit work. The majority, around 60% of nonprofits, in a recent survey report that they do not have an effective recruiting strategy.
It can be difficult for many nonprofits not only to staff themselves with limited resources, but to find employees that make meaningful work. There is hope however, as studies show that millennials, which make up the largest generation in the workplace (around 56 million), state that they are best motivated by a career with a sense of purpose. Similarly, 22% of Gen Z employees report that they are attracted to rewards and positions that drive progress for social causes.
Speakers for the day's event spoke to the benefit of the training session. GinNeal, representing Amplified HR Solutions, stated that she enjoyed the "active participation" and "open feedback" from participants, but was most satisfied with the feeling that everyone left the training with "new tools in their toolboxes" for the future.
One important concept that attendees left with for their "toolboxes", was the idea of human resources encompassing "employee-building" rather than functioning solely as a means of "employee-reprimanding". A quote shared during the training, taken from Amy C. Edmonson of the Harvard Business School, stated, "When people believe they can speak up at work, the learning, innovation, and performance of their organizations is greater."
Equipped with their knowledge from the day, participants of the Nonprofit Center Human Resources training can now focus their efforts on creating a work environment that provides purpose to their employees and makes them feel valued in their roles.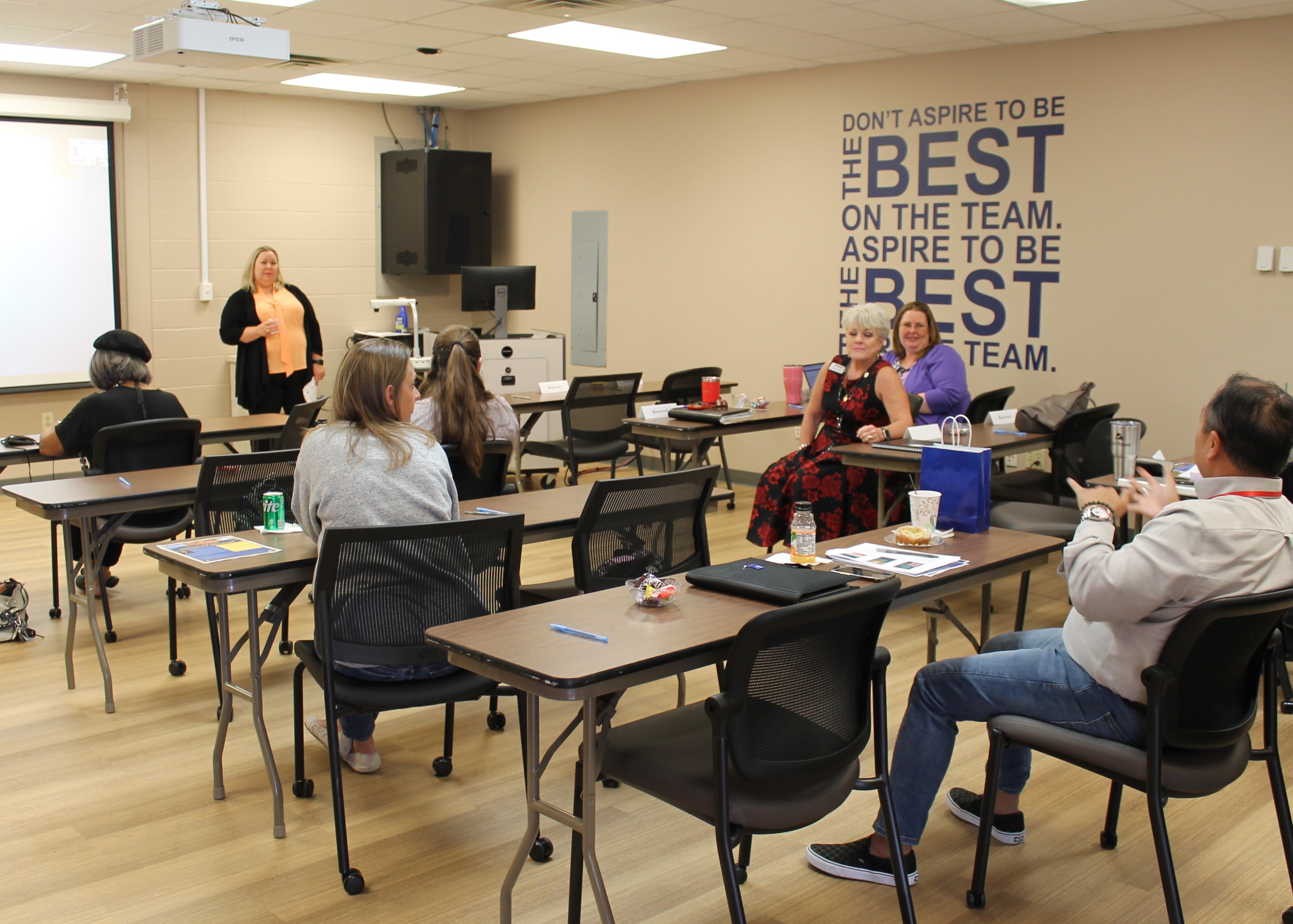 PSC Employment Services Manager, Mel Miner, discusses the concept of "employee empowerment" with training attendees