Some routes to achievement are longer than others.
For Pensacola State College Adult Education graduate Imer Hernandez-Gomez, the journey started when he left his native Honduras four years ago for the United States to better himself.
He is one of 36 PSC Adult Education students who earned a GED during the spring semester. Hernandez-Gomez and about half his graduating class received diplomas at the 2023 PSC General Education Diploma Recognition Ceremony held  May 3 at the Ashmore Auditorium.
"I came by myself to the United States when I was 18,'' Hernandez-Gomez said. "I was a little young but came for a better education and more opportunities."
It wasn't easy, he admitted.
"For me, it was hard,'' he said of his quest to earn his GED. "I didn't know the language well, but I never gave up. The writing test was hard for me, but I kept trying and would not quit."
He credited the PSC Adult Education instructors for pushing and supporting him through his educational journey.
"They were always helpful,'' he said. "And they want you to do well."
Now, Hernandez-Gomez plans on enrolling in Pensacola State to study accounting.
He knows the GED he earned can be a launching pad to even greater educational achievement. The Recognition Ceremony guest speaker, Tawada English, is living proof.
She became pregnant at 17 and dropped out of high school but decided as an adult to set goals and chase them. English entered the PSC Adult Education program in 2012 and earned her GED in 2013.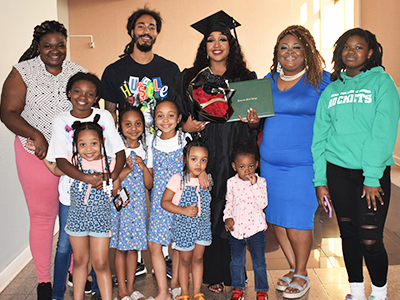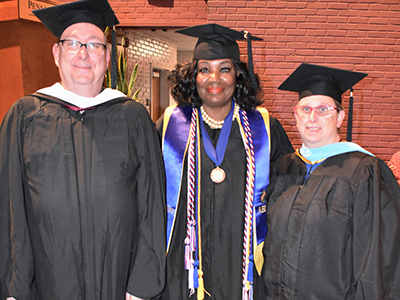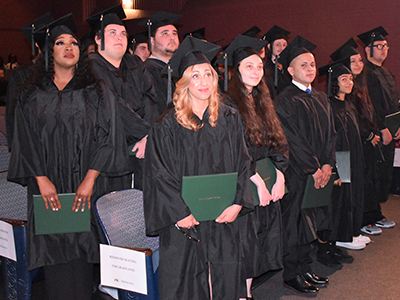 But that wasn't the end of her educational pursuit.
English earned an Associate of Arts degree from Pensacola State in 2016 and a Bachelor of Applied Science in Business Management – Health Care Management concentration – from the College in 2018. She also earned an Advanced Technical Certificate in Human Resources at PSC in 2019.
She recently earned her master's degree in Health Care Administration from Liberty University in Virginia and is currently a doctoral student at the university.
English, now a grandmother, admitted there was fear when she decided to better her life through education.
"You need perseverance to overcome that fear,'' she told the graduates. "And you're going to need some tools in your bag to succeed. The good news is you have already begun to fill your bag by graduating."
The Spring 2023 Adult Education program graduates are:
Katina Anderson
Isabella Andrews
Vida Antoine
Tasia Bargaineer
Haley Bartlett
Nevaeh Bass
Gabriel Boyd
Giuliano Calasso
Shaunquetta Faulkner
Seth Ghboun
Alicia Haley
Aaliyah Henderson
Adriana Hernandez
Imer Hernandez-Gomez
Kalissa Jackson
Joshua Jenkins
Cedric Johnson
Olivia Kelley
Sean Manthey
Albert Montaina
Quang Nguyen
Willian Oneill
Dakota Pattanachan
Brashaun Pello
Eudolphinique Porter
Donna Sanchez
Rosa Scilio-Boyland
Kennedy Sole
Cody Spicer
Tyler Spicer
Landen Talamo
Gabriel Torres
Sabrina Whitner
David Williams
Anastasia Williams
Charles Wolfe