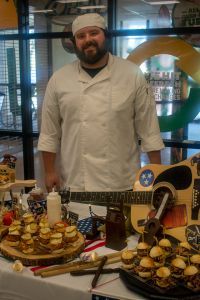 Published: 07-23-2021
Troy Moon, Pensacola State College
Pensacola State College's annual Garde Manger Celebration brought more than 150 of the College's donors and supporters to the Pensacola campus on Wednesday, July 22 for an event featuring food and friendship.
Hosted by PSC President Ed Meadows and the Pensacola State College Foundation, the event is a thank you to donors whose financial gifts help fund student scholarships, programs, facilities and more.
While guests dined on scrumptious small dishes prepared by PSC Culinary program students, Meadows noted that so many students depend on scholarships to help finance their education.
"I just wanted to extend a big thank you to all of you,'' Meadows said. "One of the reasons we have some of the talented students that we do is because of all of you and your generosity."
Students in the Culinary program's Garde Manger class prepared the dishes, which ranged from tropical pork sliders and salmon-stuffed tomatoes to roasted pepper salad and strawberry basil soup.
Longtime PSC supporter Dona Usry, like many of the donors, chatted up culinary students who were at their various themed garde manger stations.
"The food is excellent,'' Usry said. "It always is whenever the culinary students are involved. The students are so prepared and talented, and their instructors are top notch."
Culinary student Mike Johanson chose a New Orleans theme for his station and served up dishes ranging from jalapeno bacon-wrapped poppers to the strawberry basil soup – the strawberry is the official Louisiana State Fruit.
"This is a great experience for us when we go to work in the outside world,'' Johanson said. "You not only get a chance to prepare the dishes, but to meet the people and interact for the people you're serving. It's great to have that opportunity and experience."
PSC Culinary instructor David Langham said the event can help jump start a culinary career.
"Some get jobs just from this event,'' he said. "I've seen people give students a card and tell them to go see them on Monday. Everyone is looking for workers these days so this is a great way for students to show what they can do."