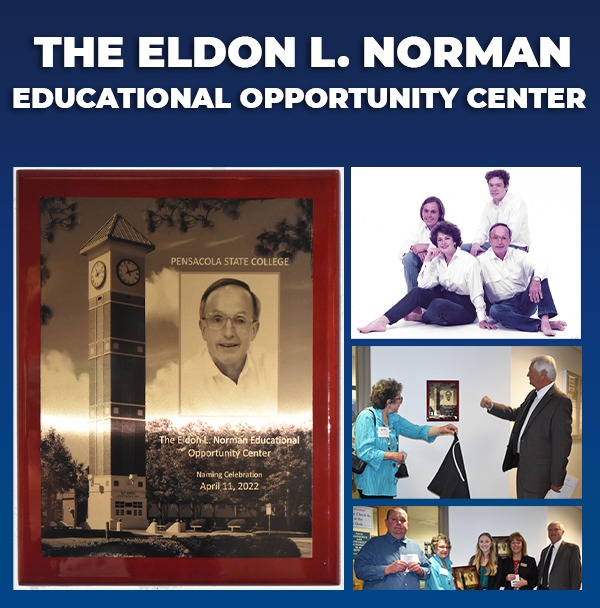 By Troy Moon
Pensacola State College
Eldon L.Norman began his collegiate career at then-Pensacola Junior College in the early 1960s, earning an Associate of Arts degree in 1963.
Now, many Pensacola State College students – the College changed its name in 2010 – will start their own collegiate career at the Eldon L. Norman Educational Opportunity Center.
The Educational Opportunity Center (EOC) was renamed in Norman's honor at a ceremony attended by relatives and PSC administrators and staff on Monday, April 11.
"It's such an honor,'' Jean Norman said of the recognition for her late husband, who died in September 2000. "The mission of the EOC mirrors what Eldon needed to secure his education. He had to get scholarships and worked all the way through his Ph.D."
The Eldon L. Norman Educational Opportunity Center is a federally-funded TRIO program that assists low- and modest-income and first-generation-in-college students. Located in Building 6 on the Pensacola campus, the EOC offers services for Admissions, Financial Aid, Education and Career Exploration, Money Smart Workshops and more.
Norman was honored in part because of his family's long and loyal support of PSC. The family began financially supporting the College in 1988. In 2002, Jean Norman established the Eldon Norman Memorial Endowed Scholarship. Since its inception, students have received more than $46,000 in support from the Eldon Norman Memorial Endowed Scholarship.
Jean Norman recently contributed an additional $25,000 to the scholarship, bringing the total endowment to $100,735.
"What a great day to be celebrating this special occasion with Jean Norman and her family,'' said PSC President Ed Meadows. "It is no surprise to anyone that a person like Jean has continued to give to our community through her service, and she has certainly given to Pensacola State College."
Jean Norman is a Pensacola powerhouse in community service and philanthropy.
She has served as Director of Development and Marketing at the WSRE-TV Foundation and was Director of Economic Development at Pensacola Junior College. She is former President/CEO of United Way of Escambia County and served as the President of Rotary Club of Pensacola. She remains active in numerous community endeavors, including the Studer Community Institute, Impact 100, Gulf Coast Diplomacy Council and many more.
A Wyoming native, Eldon L. Norman moved to Pensacola with his family in 1953. After graduating from PJC, he earned a Bachelor of Science degree in forestry from the University of the South and a Master of Science in Operations Research from the University of Georgia. He earned his Doctorate in Operations Research from Purdue University.
He worked as a senior operations research analyst for Champion International and as director of distribution services for Iowa Beef Processors in Nebraska. IN 1978, he returned to Pensacola and founded the Gulf Packing Company.
Eldon L. Norman was also a real estate and equity investor.
Jean Norman said education remained important to her husband throughout his life. He came from a long line of educators, she said.
"He was very committed to education,'' she said. "When he attended college, he didn't have any financial backing. He needed scholarships to help him get through."
Sutherland Godby understands the need for assistance. She was fall 2021 recipient of an Eldon L. Norman Memorial Endowed Scholarship.
"I would like to thank Mrs. Norman and the family for their generous gift,'' said Godby, who is a student in the PSC Cybersecurity Bachelor of Applied Science degree program. "It allowed me to relieve some of my financial burden and focus on my studies. It's an honor to receive this scholarship."