By Melissa Cole
Pensacola State College Foundation
Andrea Krieger, the Pensacola State College Foundation's Executive Director, hosted the Nonprofit Center for Excellence Training: Honoring Public Trust on June 1. Joined by PSC VP of Administrative Services and General Counsel, Tom Gilliam, attendees received in-depth instruction on various areas of Sunshine Law, ethical standards, and policies around gift acceptance.
Gilliam helped explain the Sunshine Law for the group. "[Sunshine Law] provides citizens with a right of access to all governmental meetings at state and local levels by requiring that meetings be always open to the public." He shared the various situations in which this law must be enforced, such as meetings where board voting occurs.
He concluded his portion of the day by highlighting the penalties for operation outside of Sunshine Law including; criminal misdemeanors, removal from office, and fines.
Ms. Krieger then led the remainder of the session, segueing from Sunshine Law into a discussion of ethics. "According to the National Council of Nonprofits and AFP Global and Better Business Bureau," she says, "you should be honest and transparent when communicating with donors."
She also reminded the group of the importance of donor intent. "What we say matters! It's imperative to follow the [fundraising] requirements as Trust is the currency nonprofits use to recruit gifts."
Many attendees were surprised by how much they learned. "It was eye-opening to see how important my role is for the chapter and the entity as a whole," said Crista Brandt of the Escambia chapter of Valerie's House. Using a pre-test and post-test, attendees were able to see how their knowledge expanded and changed during the day.
Despite the volume and difficulty of content and concepts that were discussed, participants were pleased that they were still able to follow along. One attendee, Mallery Bergeron, stated, "I liked that Andrea gave so many examples. It made it so much easier to understand the purpose of donor intent and how to handle [different] accounts."
The PSC Nonprofit Center provides trainings to ensure area nonprofits acquire the practical knowledge that enables their organization to effectively support the community they serve. Michelle Buchanan will lead the next training on July 20 and invites old and new attendees to hear her presentation on development and fundraising.
Interested participants can register to attend at: https://npc.pensacolastate.edu/registration-july-2023/ or contact Genevieve Baughman at (850) 484 – 1568 or gbaughman@pensacolastate.edu for more information.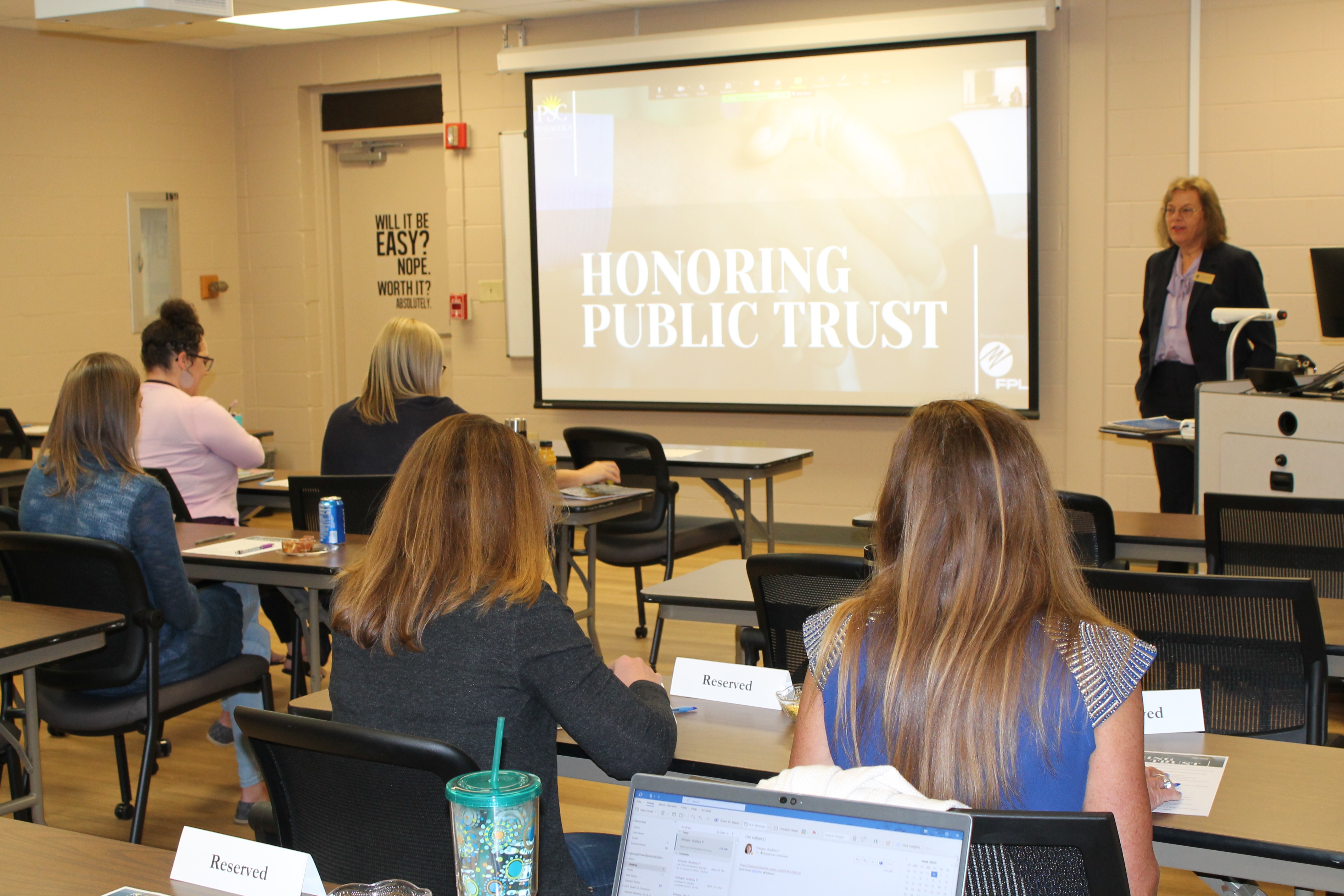 Speaker Andrea Krieger addresses attendees during the June 1 Nonprofit Center training