Pensacola State College recently honored donors who contributed artwork to the Flash Forward Permanent Collection in the Charles W. Lamar Studio.
The honorees — Susan Voss, who gifted the College four Robert Mapplethorpe photogravures, and "Flash" Gordon and Elizabeth Sprague — were recognized at the "Flash Forward: In-Kind Donor Event" on September 26 in the Lamar Lecture Hall of the Anna Lamar Switzer Center for Visual Arts.
While in graduate school at the University of South Florida, Voss received a rare set of printer's proofs from Mapplethorpe's Ken Moody Portfolio.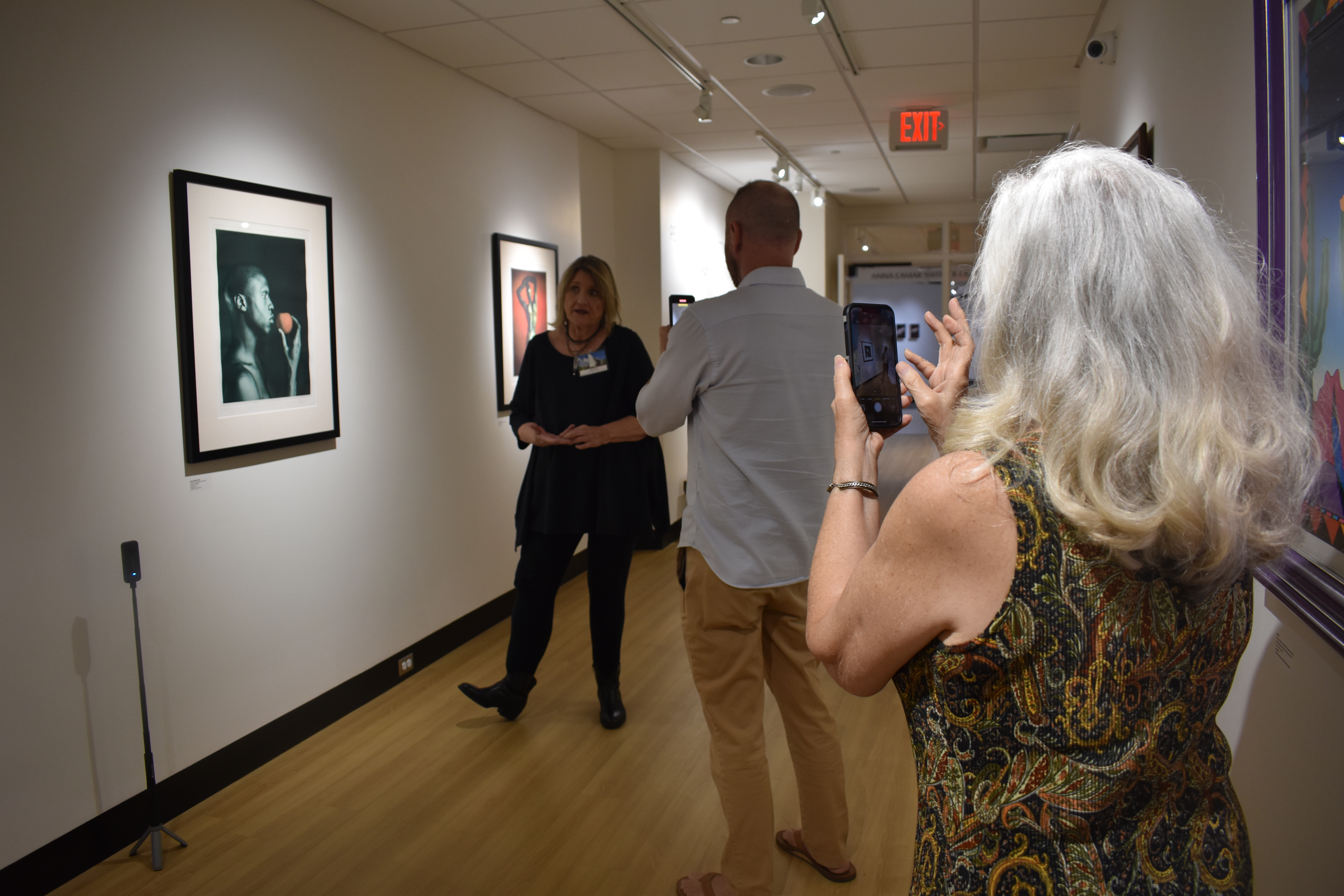 As part of a collaboration with Mapplethorpe and the University of South Florida's Graphicstudio, Voss (while a University of South Florida grad student) assisted in hand-painting watercolor onto original Untitled photogravures.
A photogravure is an image produced from a photographic negative transferred to a metal plate and etched in.
"I had the opportunity to be paid by the hour, or I could be paid with the artwork, so I chose these four pieces," recalled Voss, who was an adjunct professor at the University of West Florida and an artist in her own right whose body of work includes painting, photography, clay, sculpture and printmaking.
The Robert Mapplethorpe photogravures pieces are:
Untitled #1 (nude with red background)
Untitled #2 (nude with gold background)
Untitled #3 (green figure with hand watercolor)
and Untitled #4 (blue figure with leaf).
The late Mapplethorpe was an American photographer known for black-and-white portraits. His work featured celebrities, male and female nudes, self-portraits and still life. Mapplethorpe's works also can be at the Art Institute of Chicago, The Museum of Modern Art in New York and the Tel Aviv Museum.
The Spragues donated five pieces of art from their personal collection:
"Sonny Boy and His Sidekicks Pamster and Pluto Bringing Down the House at San Lorenzo de Picuris" serigraph by Southwestern artist ─ Tavlos.
Guy Buffet's "Wine Tasting" lithograph and "Silver Oak" lithograph
A.D. Greer's "Floral Bouquet in Vase" oil on , and
Fran Larsen's "Rooftop Chant" watercolor on paper.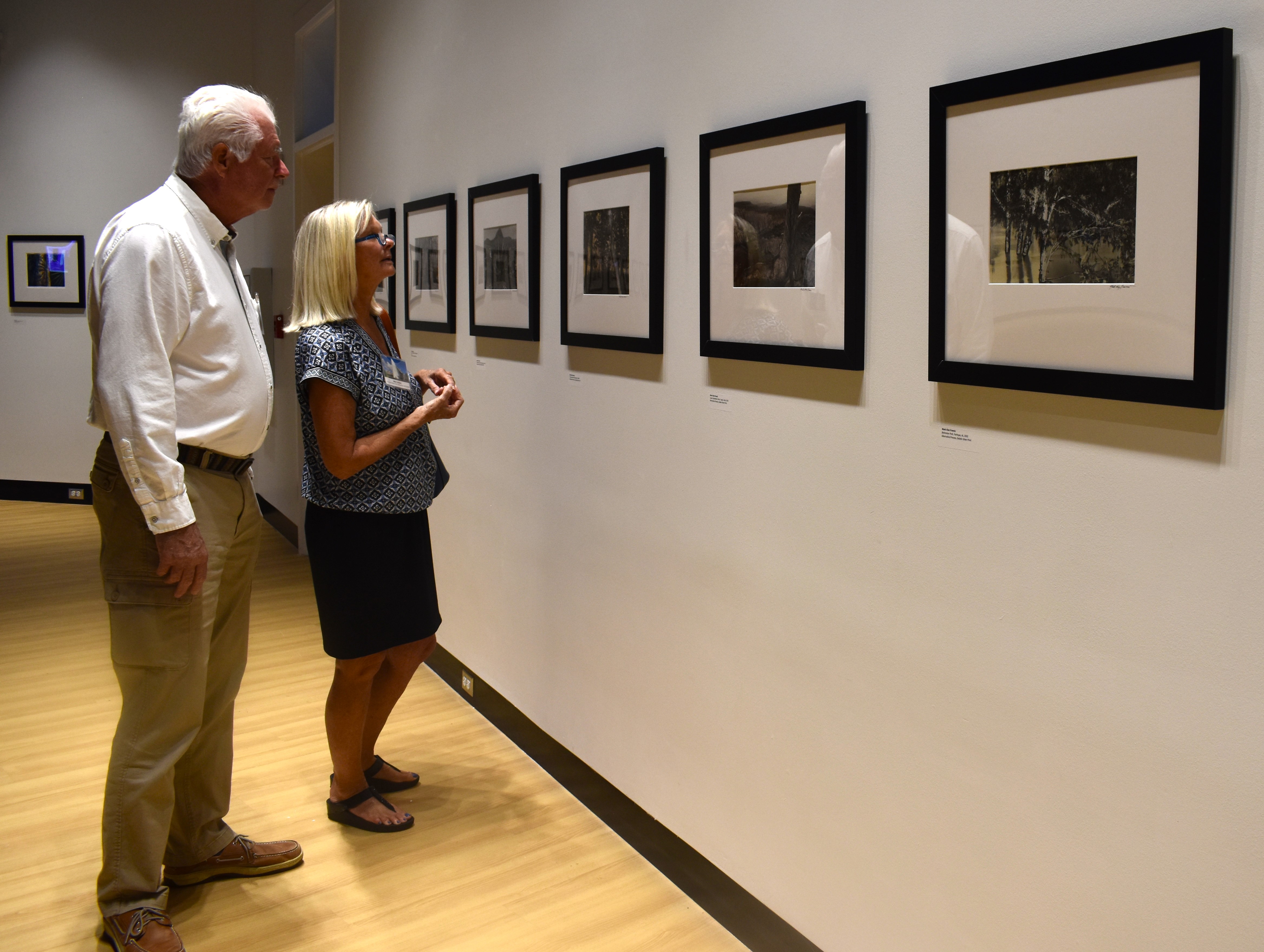 The art pieces are part of the permanent collection in the Charles W. Lamar Studio Gallery and hang in the studio's main corridor.
Gordon Sprague, a U.S. Air Force veteran and retired NASCAR driver, among many other ventures, is a PSC District Board of Trustees member. Elizabeth Sprague is a product of the Florida College System – having graduated from St. Petersburg Junior College in 1962 with her husband.
The Flash Forward Permanent Collection also includes pieces donated by Dr. Gaylon and Susan McCullough, Harvey Rundquist and Professor Harold "Hal" Malt.