College announces establishment of endowed scholarship in Williams' name
There were tears, laughter and sweet memories shared during a memorial service to honor Carla E. Williams on Wednesday in Hartsell Arena.
"You raised someone who was very special and there is no one in this room who does not know that. And if there is anyone here who came because, you didn't really know Carla but came because you wanted to celebrate her life, you know it now that she was a very special person," Pensacola State College President Ed Meadows told Williams' parents, James B. and Clara Mae Williams, and siblings, Ben Williams and Pam Williams, at the memorial service.
Williams, a former PSC women's basketball player, assistant basketball coach and math professor, died on May 24 due to domestic violence. Described as a leader, a friend, a teacher, a mentor, Williams' death has left quite a void at the College and in the community.
PSC Basketball Coach Penny Belford said Williams was a special person who knew how to make others feel the same.
"…If you knew her well, you knew that she would do anything she could to help," said Belford to the more than 100 memorial service attendees.
"She didn't do it for recognition. She didn't do it for clout. She didn't do it because she wanted something in return. She did it because that just who she was. She was selfless in every sense of the word."
An associate professor at the College, Williams spent more than 24 years working in Pensacola State's athletics programs, Collegiate High and the Mathematics and Computer Science Department.
An academic and athletic standout at Graceville High School, Williams led the women's basketball team to a state championship in 1992. After graduation, Williams played two years at Pensacola State College — where she was selected to the All-Conference and All-Region teams both years.  After PSC, Williams went on to Florida State University where she excelled as well.
Allison Whiting, a PSC student-athlete, referred to Williams as one of the College's best instructors.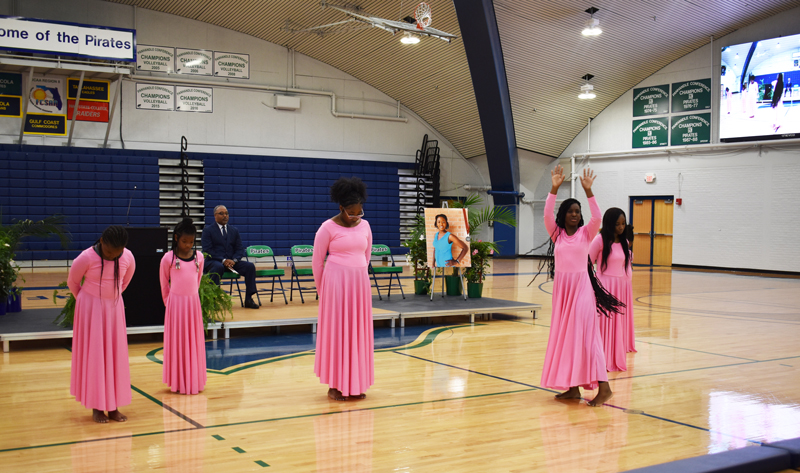 "One of the many great things about Miss Carla was that she was a great listener. It didn't matter if she had somewhere to be or had a long day, if you needed her, she was always there," said Whiting who noted that Williams helped her balance volleyball and schoolwork.
"She treated everybody in the class with the utmost respect. …She was confident in her work and never left anyone behind."
Escambia County District 3 Commissioner Lumon May as well as former PSC women's basketball coach Vicki Carson were among those paying homage to Williams at the service.
Other speakers included Men's Basketball Coach Pete Pena, Professor and Librarian Charlotte Sweeney, Assistant Math Department Head Darren North and Director of Professional Development Juanita Scott.
Dr. Joseph Marshall, pastor of St. John Divine Missionary Baptist Church, officiated the memorial service. WOW (Warriors of Worship), the church's praise dancers, also performed.
Sweeney encouraged attendees to participate in an "End Gun Violence' rally set for 10 a.m. Saturday, June 11, at Ferdinand Plaza in downtown Pensacola.
"Show up. Speak up. Make a difference. Remember Carla. Honor Carla. For Carla understood and lived the UFF-PSCFA motto: 'We can do together what we cannot do alone,'" Sweeney said.
Scott presented a spoken word piece where she described Williams as "She is Caring. She is Authentic. She is Refreshing. She is Loving. She is Adored. Say her name! She is CARLA!"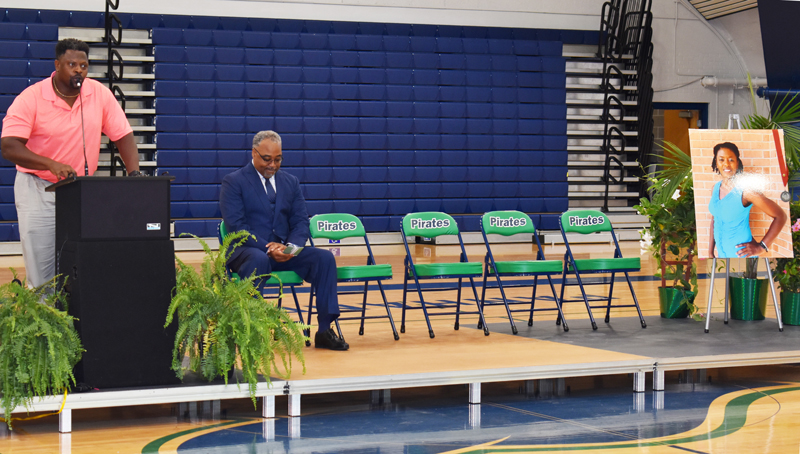 Williams' brother, Ben Williams, thanked the College for honoring his sister and said his family is committed to ending domestic violence.
"What happened to Carla never should have happened. We rely on laws. We rely on people writing laws and administering laws. And we think, as taxpayers, that work hard every day to pay our taxes that we'll be safe," he said.
"A lot of times, it is a tragedy like this that really opens our eyes to actually what is going on. …Change is not going to happen unless we work hard to make the change. On behalf of my family, on behalf of all us Pirates and all our Pirate family, we want to make sure that this never happens to any other family out there.
"We know we have a lot of work to do, and we've had a lot of people ask us, 'How can we help?' As we used to say in the Army, 'Stay cocked, stay ready!' We will have a lot information coming out soon. As a family we will work hard to make sure this never happens to anybody else."
In closing, Meadows announced the establishment the Carla Williams Memorial Endowed Scholarship. Donations can be made at https://athletics.pensacolastate.edu/Carla-Williams-Memorial-Scholarship-Fund.
He also said Williams will be the only Pensacola State College 2022 Athletics Hall of Fame inductee.
The event was livestreamed on Facebook with many people viewing the memorial service and leaving comments.
"Thank you for helping me to believe in myself Ms. Williams. I miss you so much already! You have made a profound impact on my heart and soul," Tiffany Pearson said on the social media platform.
Yolando Williams commented, "Carla gave life to the years she lived and made a difference."
"She was the best math teacher I ever had and a beautiful soul. A woman that inspired many people," Anita Puglisi shared.
The Carla E. Williams Memorial Endowed Scholarship
Donations can be made at https://athletics.pensacolastate.edu/Carla-Williams-Memorial-Scholarship-Fund.