Mary Mabins, Pensacola State College
Pensacola State College unveiled its new state-of-the-art Baars Technology Building during a ribbon cutting ceremony April 9 on the Pensacola campus.
The $15 million ─ 23,839-square-foot ─ two-story facility will be home to the College's STEM programs, including cybersecurity, mathematics, computer science and other high-tech fields of study.
It replaces the Mary Ellison Baars Building. Demolished in January 2019, the Mary Ellison Baars Building was 60 years old and the College's oldest structure. It was named in honor of the Baars family matriarch for making the original property available to the College.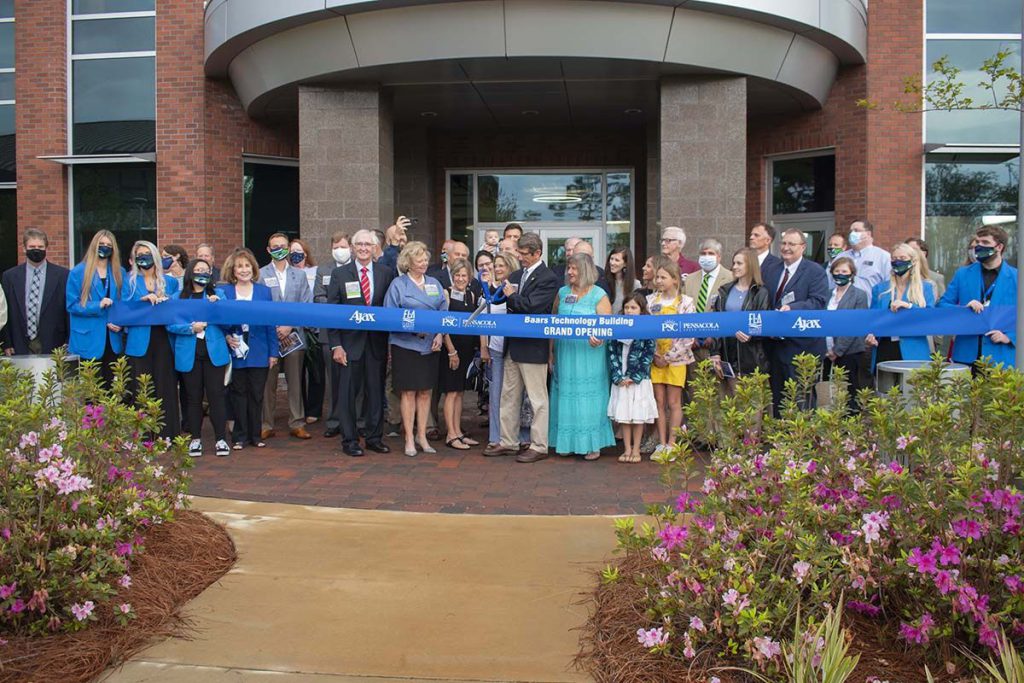 "Pensacola State College was Florida's first junior college established under the Minimum Foundation Program in 1947. We started in a downtown Pensacola boarding house, but the original Mary Ellison Baars Building was the first structure built at the Ninth Avenue location," PSC President Ed Meadows said.
"That original building served the College and this community well for more than six decades. Today, we are cutting the ribbon on a cybersecurity facility that sits in the same footprint as that historic facility. It continues the Baars' family vision of supporting higher education. Future generations will be educated and trained in this new building for many decades to come."
Members of the Baars family were on hand to help cut the ribbon on the new facility along with local elected officials, the College's Board of Trustees, PSC Foundation Board of Governors, PSC Alumni Association board members, administrators and faculty. Attendees also toured the new facility, which has a cybersecurity center, Cyber Warfare Range, classrooms, laboratories and offices.
Some math and cybersecurity classes will move into the new building during the current spring term, said Meadows, who added cybersecurity is the College's "fastest-growing program."
"We offer associate and baccalaureate level degrees in cybersecurity," he added. "There are over 4,000 cybersecurity job vacancies in Northwest Florida. These are good-paying jobs. There will be no shortage of opportunities for our graduates who will be prepared for the workforce because of this new facility."
Kirk Bradley, dean of Baccalaureate Studies and Academic Support, said faculty members and students are excited to move into the building.
"It couldn't come at a better time because our cybersecurity program is growing. This will allow us to expand our program to serve even more students interested in careers in cybersecurity," Bradley said.
The new facility is Phase I of a project that will eventually include a Phase II west-wing building that will house other high-tech programs such as advanced manufacturing. The total cost for both wings is estimated at around $35 million.
Robert Pratten, the College's cybersecurity program coordinator, said the new facility will allow the College to serve its students.
"The building will allow us to expand the program and provide more class offerings per term,'' he said. "We are currently stretched to the max in trying to provide classes for all of our students. Now we can offer classes with leading-edge technology in the classroom, keeping pace with the industry and technological advances."
Ajax Building Corp. was the general contractor for the project, which Florida Architects designed.
For more information, contact Sheila Nichols, Pensacola State's executive director of marketing and information, at 850-484-1428 or snichols@pensacolastate.edu.