Troy Moon, Pensacola State College
Two new art exhibitions will open at Pensacola State College on Thursday, Jan. 6, one featuring a talented art instructor and the other showcasing the work of an artist inspired by the past and present while employing a style that was first used in medieval times and which flourished during the Renaissance.
An Opening Reception for the exhibitions is set for 5 p.m. Thursday, Jan. 13, at the PSC Anna Lamar Center for Visual Arts.
The "Anna Lamar Switzer Endowed Teaching Chair Exhibition'' features the work of Paula Work, a member of the College's Academy of Teaching Excellence. It will be on display in the Charles W. Lamar Studio Gallery in the Anna Lamar Center for Visual Arts through April 29.
The work of South Florida artist Lauren Redding is showcased in the "Interstellar Insulation" exhibition, which features compelling and mysterious works produced in silverpoint – a drawing media in which the artist uses silver wire in a stylus to produce images.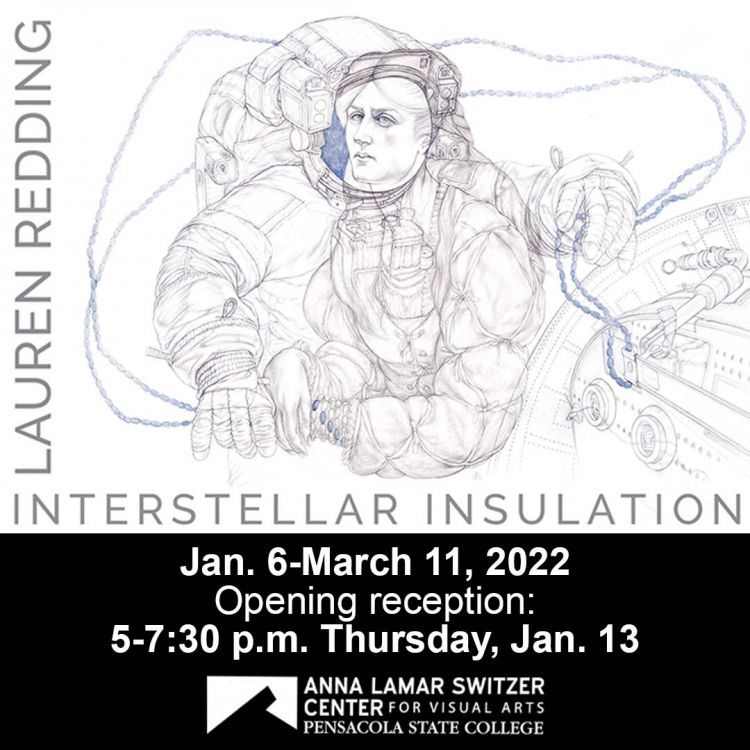 Redding's pieces feature detailed and alluring depictions of astronauts, space suits and spaceships often sharing space with depictions of Old Master artists, as well as ancient Greek and Roman figures. The exhibit will be on display in the Switzer Gallery through March 11.
Work teaches drawing, painting and printmaking at the College. She is a PSC alumna who studied at the prestigious School of the Art Institute of Chicago where she earned a Bachelor of Fine Arts degree. She later attended Western Michigan University on a graduate fellowship. She was awarded the Anna Lamar Switzer Endowed Teaching Chair position three years ago and has spent those three years creating pieces for the exhibition – all while teaching.
"They're both beautiful exhibitions,'' said Alaina Plowdrey, PSC Visual Arts department head. She said Work's featured paintings, often depicting nature and serenity, "create a quiet, mindful mood."
Work said she aimed to encapsulate her artistic vision in the exhibition, which includes elegant portraits of the natural world, filled with horses, sheep and other creatures.
"I'm just trying to boil down what I'm an artist and be authentic,'' Work said. "I try to bring a real reverence to my art. Art is very religious to me. It's not about religion, but it's my religion."
Plowdrey has known Redding since both were students at the New York Academy of Art, where they both earned Master of Fine Art degrees.
"She is so talented and meticulous in her approach,'' Plowdrey said. "We're fortunate to have her work here at PSC."
Redding and her husband, sculptor Brett Harvey, founded H&R Studios in Naples, Florida, in 2018. Both artists produce artwork, lead programs and teach at the studio.
"I think it appeals to artists who have material-geek tendencies,'' Redding said of the highly intricate and technical artistic medium.
"It's for the type of artists who like to dive deep into researching their materials and want to know how to make them and where they come from. It is knowledge passed onto other artists."
Artists who worked in silverpoint include Leonardo da Vinci, Albrecht Dűrer, Raphael and, later Rembrandt.
Since Redding's exhibition features images that relate to space exploration and astronomy, she will be featured with PSC astronomy professor Lauren Rogers in an artist lecture/panel discussion presentation at 3 p.m. on Jan. 13 preceding the Opening Reception.
"I thought it would be nice to bring in some of the astronomy students and art students and whoever else is interested in the whole realm of the unknown, as well as the limited knowledge of what we do know,'' Plowdrey said. "I thought it would be a great conversation to have together."
There is no charge for admission to the Anna Lamar Switzer Center for Visual Arts. For more information, call 850-454-2250.