The 10th Annual Day of Clays Event presented by TRANE was the most successful shoot yet. On Saturday, October 2nd, over $110,000 was raised with all proceeds directly aimed at supporting Pensacola State College students and programs.
"As we emerge through this pandemic, our ongoing support for students continues to be of the utmost importance," said Andrea Krieger, Executive Director of the Foundation.  All proceeds benefit PSC students through the Fund for Excellence.
At the Santa Rosa Shooting Center in Pace, more than 140 shooters of all ages, representing 39 teams, competed at the event. First-place teams from two courses were recognized.
Earning First Place Team honors on the Red Course was Elite Mechanical and First Place Team honors on the Green Course went to Nordic Healthcare.
First Place Men and Ladies Individual shooters on the Red Course were Michael Solliday and Lindsey Engel.  Green Course winners were Casey Roberts and Diane Beckworth.
Junior First Place on the Red Course was Grant Norris and the honors went to Clinton Green on the Green Course.
Overall Shooting Honors, those who participated without the use of mulligans, went to Eric Hanssen on the Red Course and David Snyder on the Green Course.
Winners will be recognized on the newly established Day of Clays Trophy which will be proudly displayed in the Foundation office.
We are grateful to the shooters, guests, and volunteers as well as the following organizations that took part in our Clay Shoot success:
Presenting Sponsor: TRANE
Signature Sponsors: Bradley Masonry and SYNOVUS
Cart Sponsor: The Rockhill Group
Breakfast Sponsor: Hewes and Company
Lunch Sponsors: Chet's Catering, Lewis Bear Company & Morette Company
Ice Cream Sponsor: Arcadia
Hospitality Sponsors: Buffalo Rock Pepsi, Lewis Bear Company, InterBay Building Services and Brokers Unlimited
Prize Sponsors: ACS Coatings, Schmidt Consulting Group and SYNOVUS.
Generous in-kind event donors included Boyett's Portable Restrooms, Santa Rosa Shooting Center, ACE Unlocks, Lewis Bear Company, Monarch Aviation, Saltmarsh Cleveland and Gund, Bere' Jewelers, and Seville Power Equipment.
This event is not possible without the support of our partners and volunteers and for that we are truly grateful.   We look forward to returning to Santa Rosa Shooting Center on October 1, 2022 to continue the Clay Shoot Tradition.   For more information on supporting the event, call the Pensacola State College Foundation office at 850.484.1564.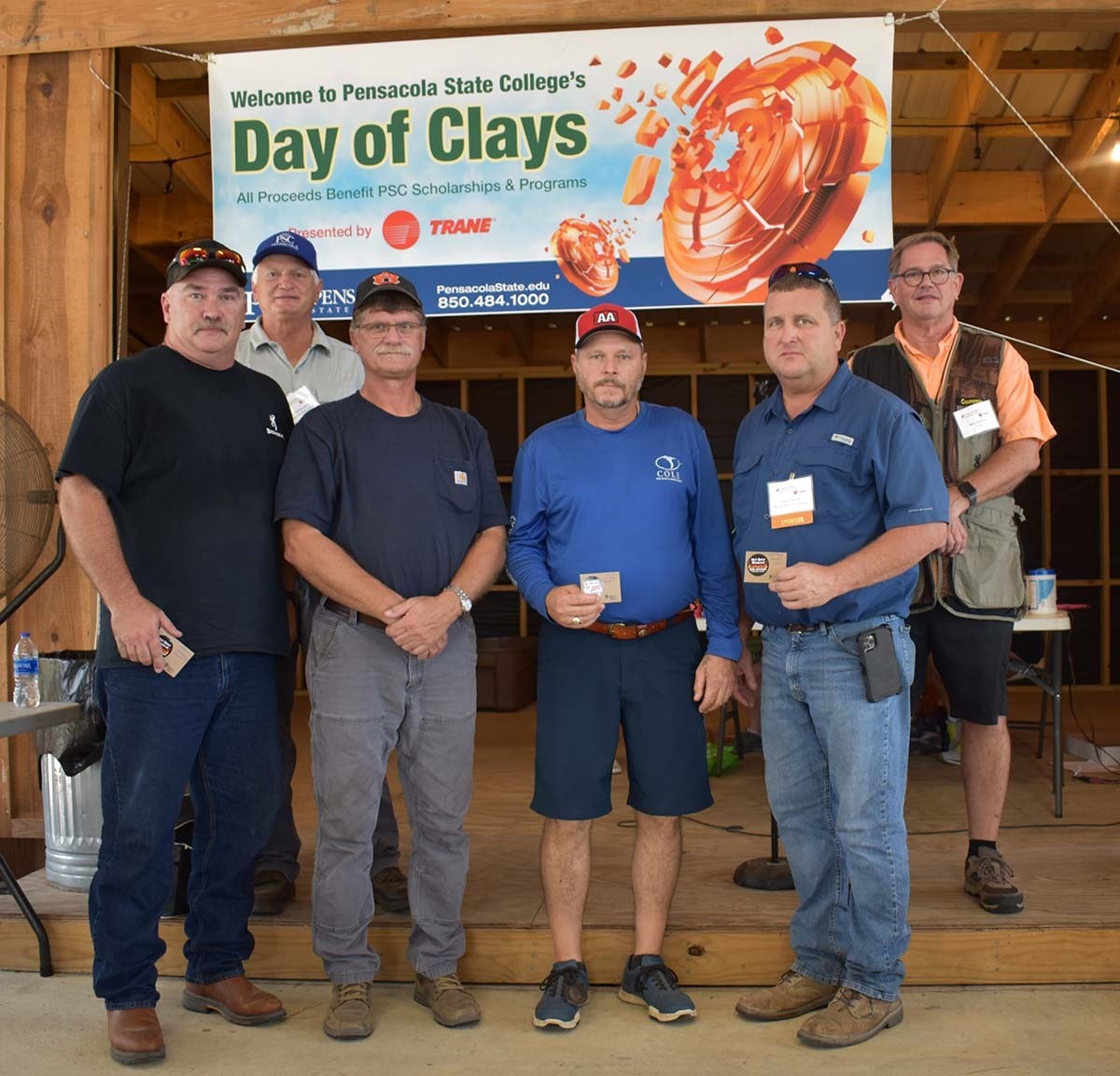 President Ed Meadows and Chair Ron Jackson congratulate the 2nd Place Team Shooting the Green Course, Ready Mix USA/Cemex: David Snyder, Nate Snyder, Donald Goolsby and Henry Scott.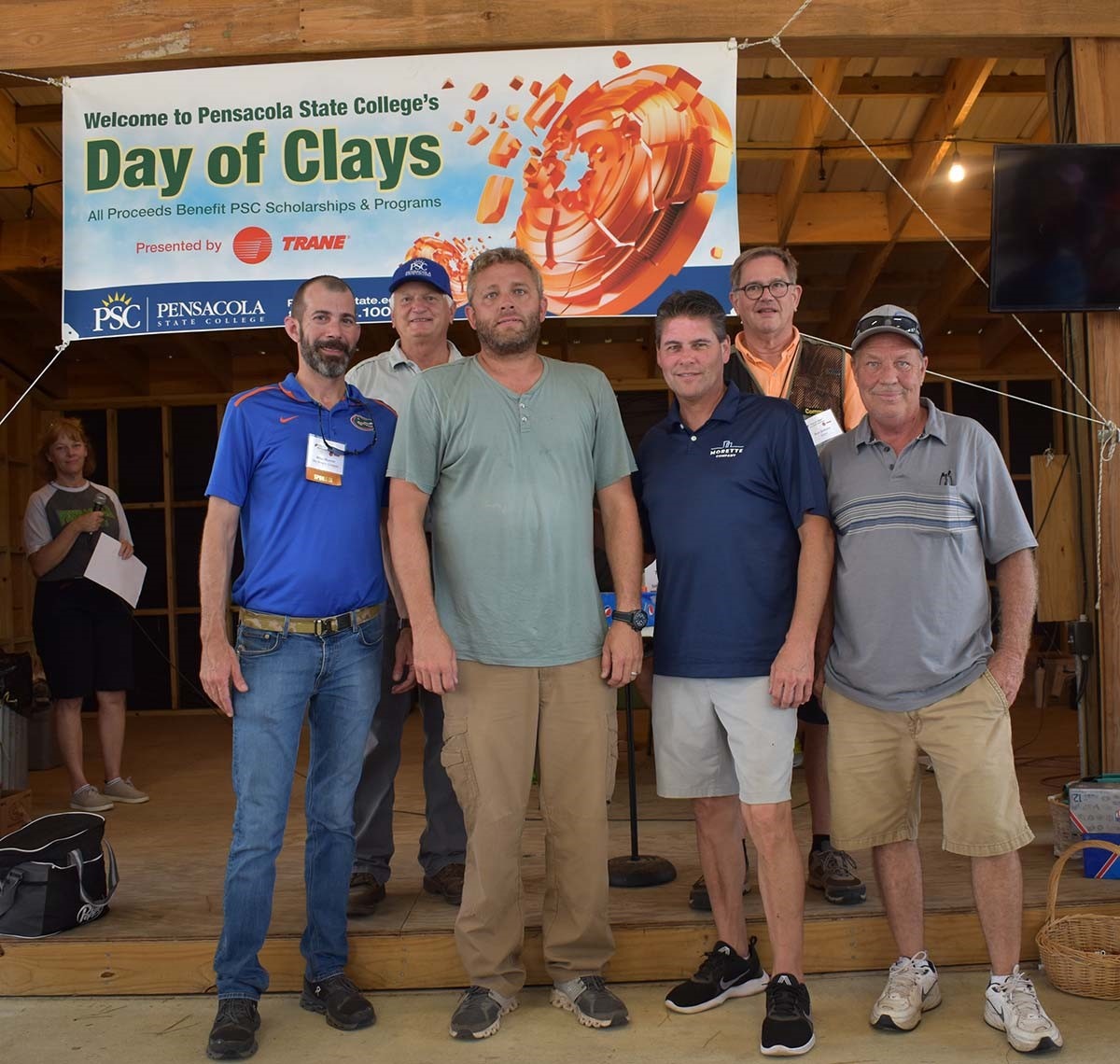 Team Morette placed Third on the Red Course. President Ed Meadows and Chair Ron Jackson with Board of Governor Mike Morette and Mark Thames, Jeff Varney and Casey Roberts.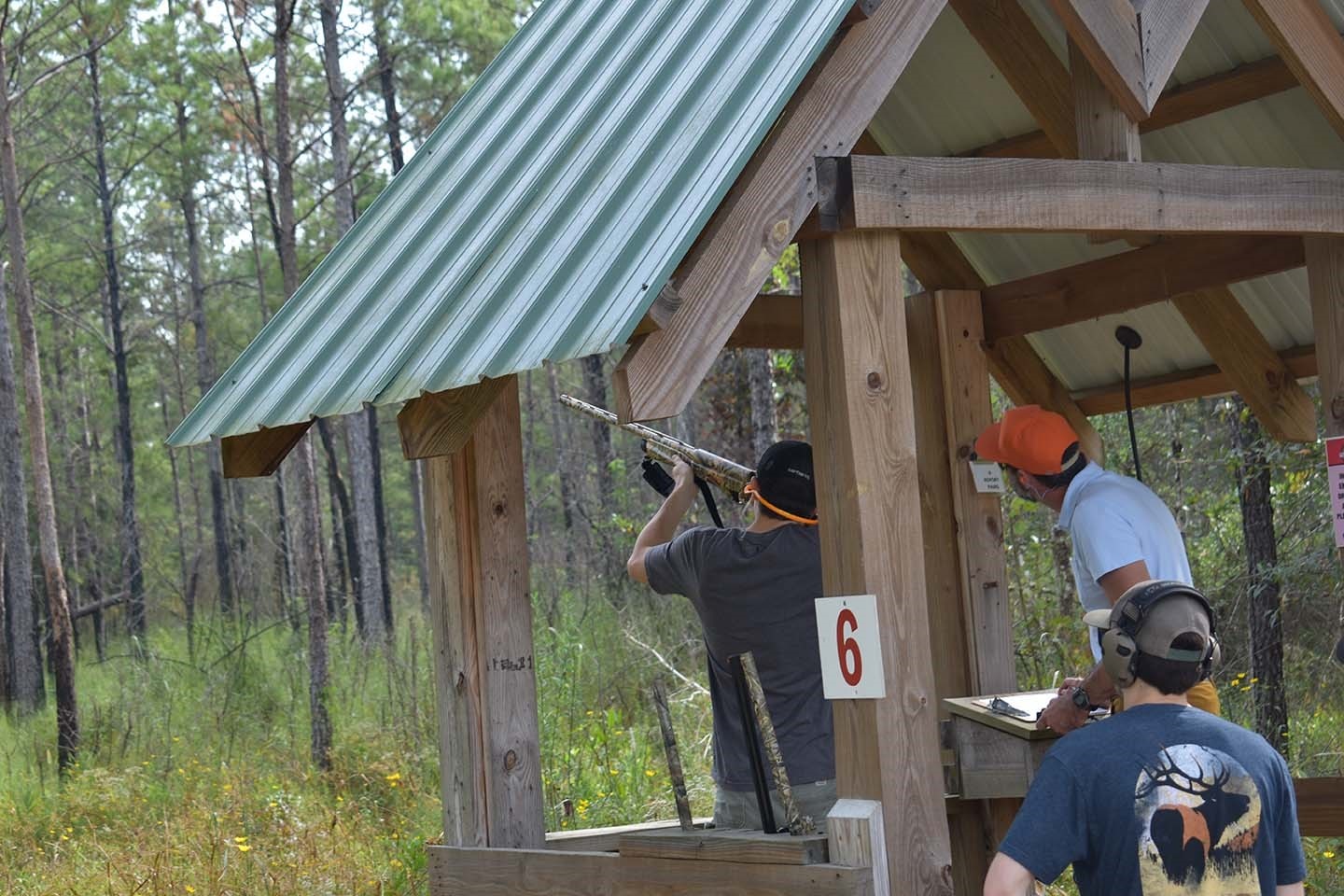 This shooter on Station 6 takes aim.  Surrounded by beauty, sporting clay courses are designed to simulate the hunting of ducks, pheasant and even rabbits.