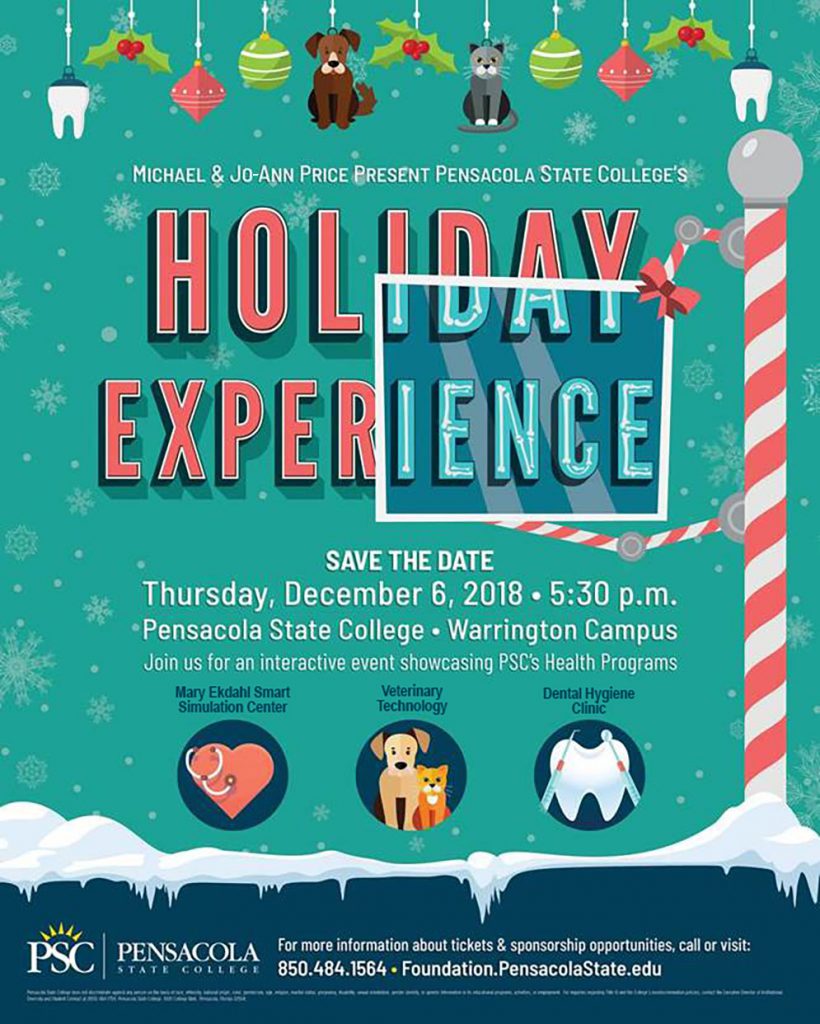 Please join us for the 2018 Holiday Experience, one of our most important fundraising events of the year. Your investment is a contribution to the Annual Fund, which invests in the future of students by providing scholarships and program enhancements to those who truly need it the most.
Slated for December 6th (5:30 pm until 9 pm),  along with Holiday Tapas, Spirits, Sweet Treats and Lively Conversation this year's Holiday Experience will be an interactive event showcasing the following  PSC's Health Programs at our Warrington Campus:


  Mary Ekdahl Smart Simulation Center-Dept. of Nursing & Emergency Medical Services
Cocktails/Tapas and Simulation Experiences
Hear heart tones & converse with patients.
Meet Victoria and Converse with Teledoc
Utilize the Virtual IV Station used by Students
Take a seat in the "stationary" ambulance

  Veterinary Technology
Holiday Cheer and Tapas
What are canine and feline behaviors telling us?
Take part in a pet exam and read a pet x-ray
Hear about the vet tech program experience
Bring a gift of towels, bedding, grooming products or toys to share with a fur baby in need

  Dental Hygiene Clinic
Holiday Cheer and Tapas
Watch students perform dental exams
Participate in using oversized dental simulator
Instructors and students will answer your questions
Our Mission has been to provide our students, which in turn have become your employees, a high quality education.  We have successfully rendered this mission since 1948!  PSC continues to offer new courses of study to enhance community workforce development and your investment ensures our continuous innovation and responsiveness.

For more information about tickets and sponsorship opportunities, please call 850.484.1564.