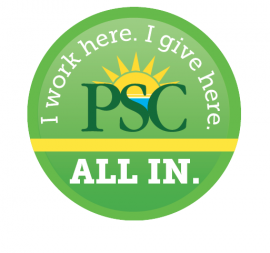 Donations to the Fund for Excellence at PSC support everything we do at the college. From scholarships to program enhancements to everything in between, the Fund for Excellence is our "greatest need" fund. It is there to help attract matching funds for grants and it is there to provide additional scholarship funding when we need it. The Faculty and Staff Giving Campaign isn't just focused on raising money for the Fund for Excellence, we hope you enjoy reading quotes from your colleagues from all PSC campuses, volunteer for your school, and/or contribute financially to the program, school and campus that you care for today.
As a PSC Faculty or Staff member, you are the College's best advocate. Please consider:
making a PLEDGE. Gifts in small increments can make a big difference (Sign up for payroll deduction. Payroll Deduction Form – 2015).
making a one-time GIFT today (Just click here. Or call Matt Harrison at

x1562.).

VOLUNTEERING for a fundraising event this year (Contact Sherry Halford at

x1564

for opportunities.).
Every donor, at every level counts. PSC is ALL IN.