For the past 23 years, the Rotary Club of Pensacola has supported Pensacola State College students with an endowed scholarship at the PSC Foundation. Since 2000, PSC Pirates have benefited from more than $112,522 in scholarships from this generous Club.
On Tuesday, October 17th, the Rotary Club of Pensacola recognized seven of its most recent scholarship recipients; Johnny Gazoo, Kathleen Graham, Antwanette Harris, Hunter Ramos, Maria Camacho Ramos, Melanie Ramos, and Kaitlyn Sutton. During the luncheon, students shared their backgrounds and the impact that the Rotary Club of Pensacola has made on their educational journeys.
These deserving students are pursuing degrees in a variety of fields, ranging from nursing and biology to English and cybersecurity. Despite differences in their programs of study, the students shared a mutual gratitude for the Club's investment in their futures.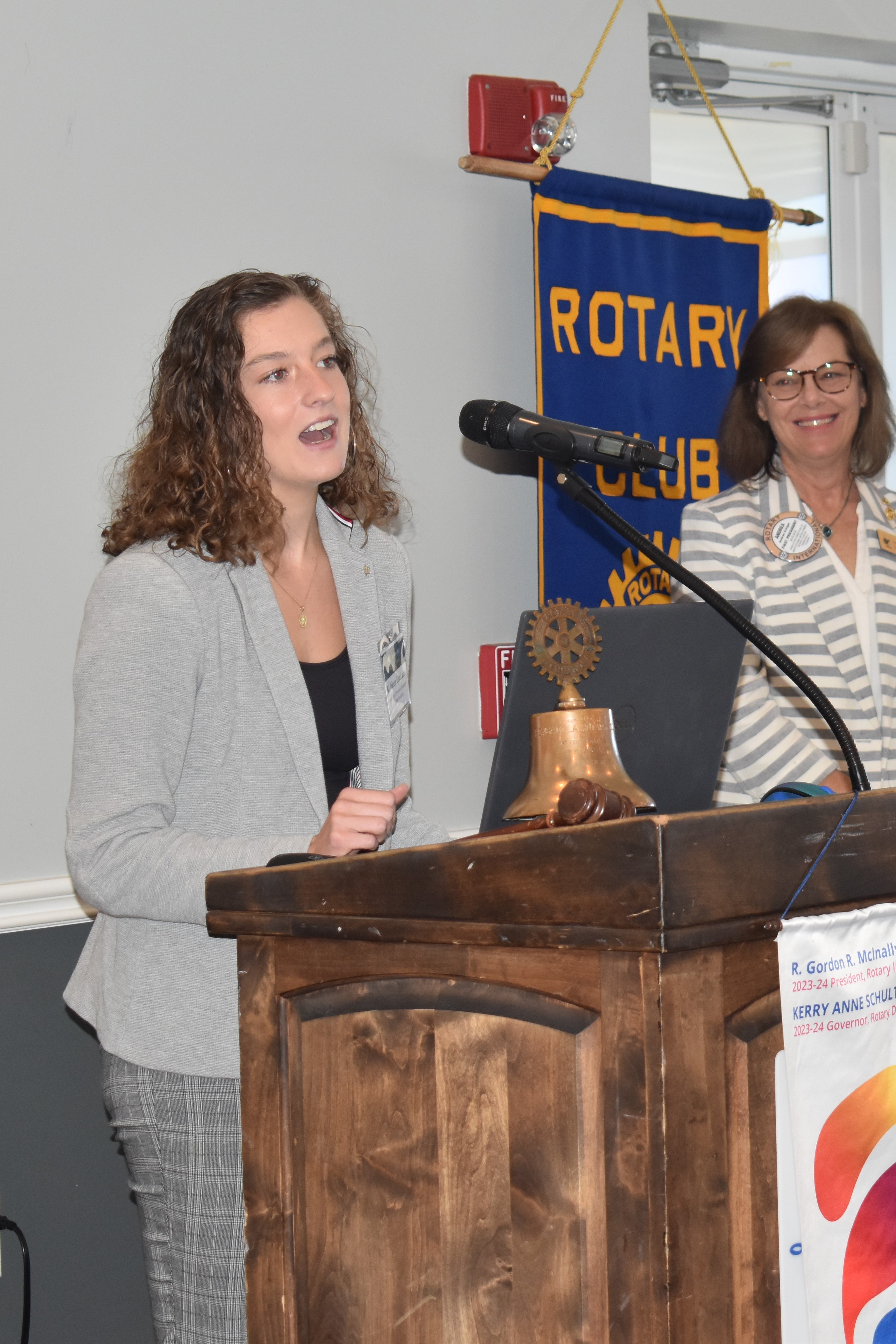 Kathleen Graham (pictured at left) said, "My son is now 11 months old, and I love every minute of being a wife and mom. However, I still have big dreams for myself, which include obtaining my degree in cybersecurity. I plan to use the degree as an Officer in the Navy, in the FBI, or contracted with the Department of Defense. Your donation has made achieving this goal so much easier for me and my family. I cannot thank you enough."
Hunter Ramos echoed Graham's thanks, "While this has been my first semester on campus, it already feels like home. The Pensacola State College staff and administration have exceeded my expectations with their commitment and dedication to delivering quality education. I look forward to my next semester as a Pirate, as I have truly been made to feel welcome by the PSC community. I will use this scholarship to finish my degree and further my dream of becoming an author. I fully recognize that this scholarship is offered with the expectation of continued academic success and will dedicate myself to ensuring it is not wasted."
The Rotary Club of Pensacola Endowed Scholarship supports students with a 2.5 or higher grade point average who live in Northwest Florida and are enrolled at PSC full-time, with preference for students who show exceptional academic promise and exhibit the Rotary's value of community service. As an endowment, this special scholarship will continue to change the lives of PSC students into perpetuity.
For more information about the Rotary Club of Pensacola, please visit https://www.pensacolarotaryclub.org/
For more information about supporting scholarships at the Pensacola State College Foundation, such as the Rotary Club of Pensacola Endowed Scholarship, please visit https://foundation.pensacolastate.edu/opportunities-to-support-psc/scholarships/
To apply for scholarships at Pensacola State College, please visit https://financialaid.pensacolastate.edu/scholarships/