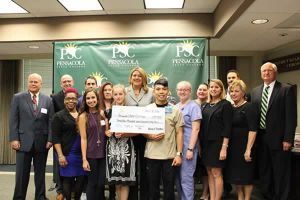 College awarded $24,755 from Florida Blue, the Helios Foundation, Bank of America
Christmas arrived a little early for 13 Pensacola State College students after they recently were awarded scholarships.
The awards were a portion of $24,755 in scholarship funds that Pensacola State received from Florida Blue, the Helios Education Foundation and Bank of America's Dream Maker program. Pensacola State's award was part of more than $893,000 in scholarship funds the three entities contributed to the 28 institutions that make up the Florida College System.