As part of their ongoing mission to provide an ethical forum for individuals to share ideas, learn the latest technological advancements, and satisfy command, control, electronics, and intelligence requirements; the Armed Forces Communications and Electronics Association (AFCEA) Blue Angels Pensacola Florida Chapter recognized the first recipient of their newly endowed scholarship at Pensacola State College.
The $25,000 AFCEA Science, Technology, Engineering, and Math Endowed Scholarship will support students enrolled in any STEM (science, technology, engineering, or mathematics) program. Students must demonstrate a financial need, be a United States citizen, and maintain a grade point average of 3.0 or higher.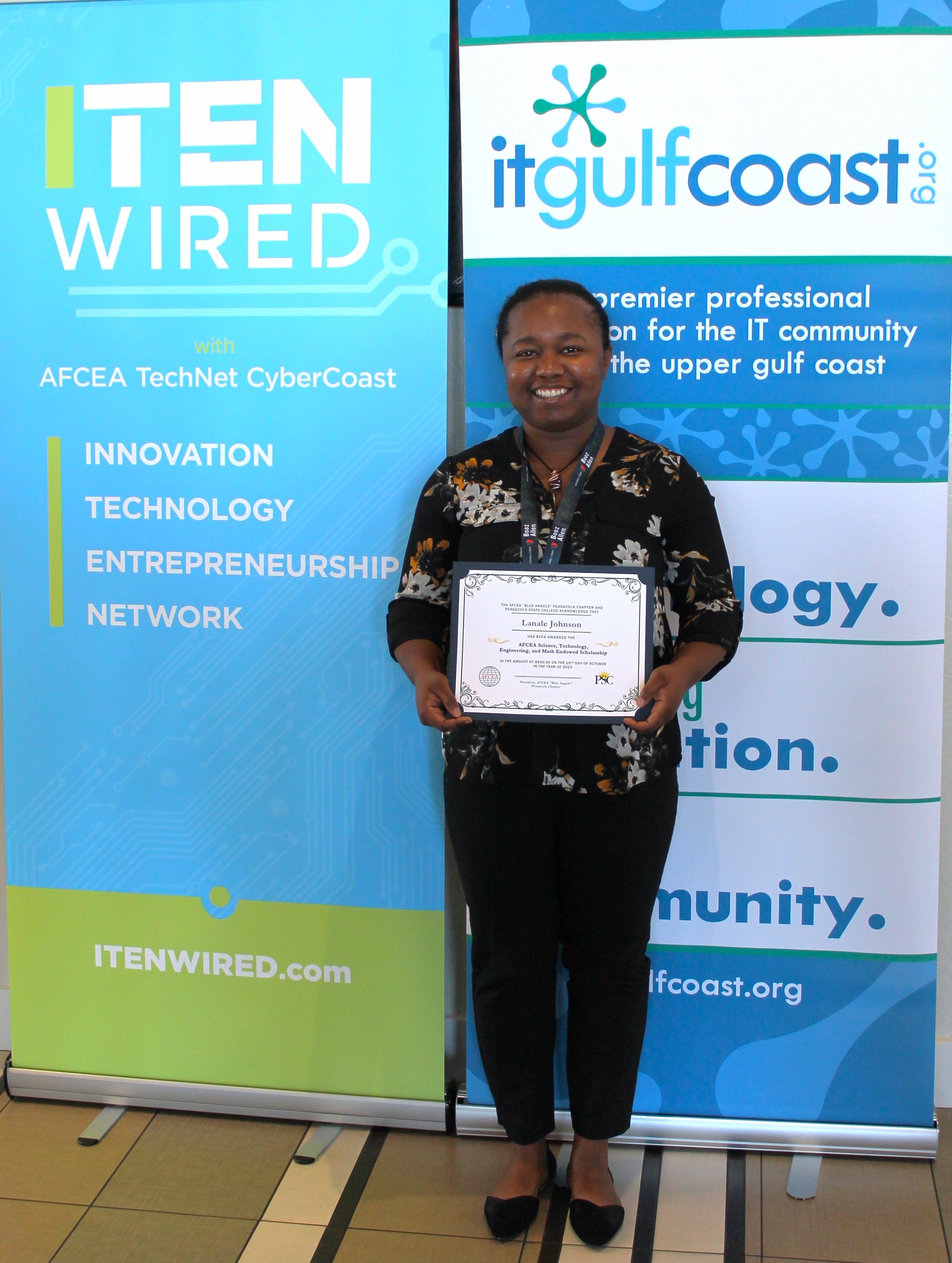 Thursday, October 19, AFCEA's Technet CyberCoast Conference was the perfect opportunity to share their efforts to develop the incoming waves of engineers and technical personnel through motivational awards, prizes, scholarships, and grants across the local community. They were also able to share how the efforts have made a meaningful impact for many young scholars as they announced the first recipient of their new scholarship, Lanale Johnson.
Ms. Johnson attended the conference to express her gratitude for the support. She shared that she was unsure of the career path she wanted to take after receiving her associate degree, and had started asking herself questions like, "What am I good at?" and "What could I see myself doing?" It was then that she discovered cybersecurity.
With AFCEA's support, Lanale is confident that she will be able to meet her goal of graduating with her bachelors by the end of 2024. Her natural aptitude for computers when she was in high school, made her choice to pursue a career in cybersecurity an easy decision. On top of her studies, she continues to seek opportunities to enhance her knowledge and skillset outside of school.
Chris Hendricks, InfoSec Analyst for Navy Federal Credit Union and family friend of Lanale, expanded upon this.
"As she has matured, she's become part of the technical production team at Life Changing Experience Worship Center, focusing on learning aspects of audio, video, and presentation media. She has a knack for technology and creativity," Chris stated. "She's been preparing for a career in technology since I've known her."
Lanale has big dreams for the future, often finding herself planning the milestone moments she hopes to achieve within the coming years. "Before I graduate, I want to start interning and gaining experience in my field." She says, "Graduation would be a monumental achievement… I think about these things just about every day… I always dream about walking across the stage and how what I'm doing will better myself."
For more information about AFCEA, please visit https://pensacola.afceachapters.org/about-chapter
For more information about supporting scholarships, such as the AFCEA Science, Technology, Engineering, and Math Endowed Scholarship, at the Pensacola State College Foundation, please visit https://foundation.pensacolastate.edu/opportunities-to-support-psc/scholarships/
To apply for scholarships at Pensacola State College, please visit https://financialaid.pensacolastate.edu/scholarships/