On the morning of October 30th, Pensacola State College cut the ceremonial ribbon and officially opened the BEAR JONES MOORE REEVES Center for Math and Advanced Technology on the Pensacola Campus.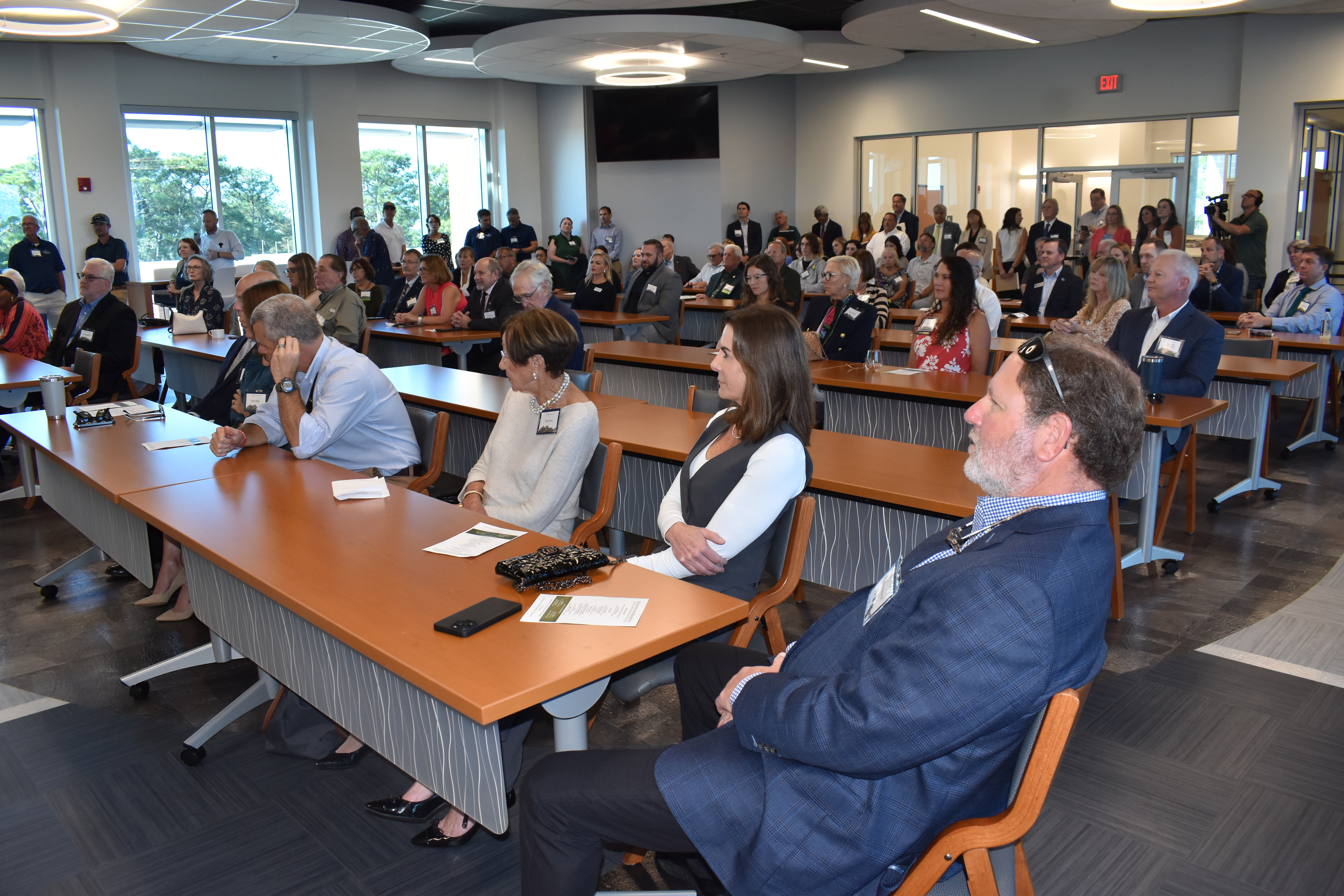 This brand-new facility, designed by Florida Architects, was completed in just over a year by Morette Company and connects via a third story to the Baars Technology Building.
Four families— the Bear, Jones, Moore, and Reeves families— collectively contributed $1 million to fund STEM-related scholarships at Pensacola State College. As a token of gratitude for their support of the cybersecurity, technology, and mathematics programs at Pensacola State College, the building is adorned with their names and commemorative plaques are housed on the building's first floor.
PSC President, Dr. Ed Meadows, began the dedication by sharing, "The BEAR JONES MOORE REEVES Center for Math and Advanced Technology will provide state-of-the-art instructional space for our math department and enable us to expand our advanced technology and cybersecurity programs."
During the ceremony, leadership and helping hands from parties involved in the building's planning, funding, and construction had the opportunity to speak.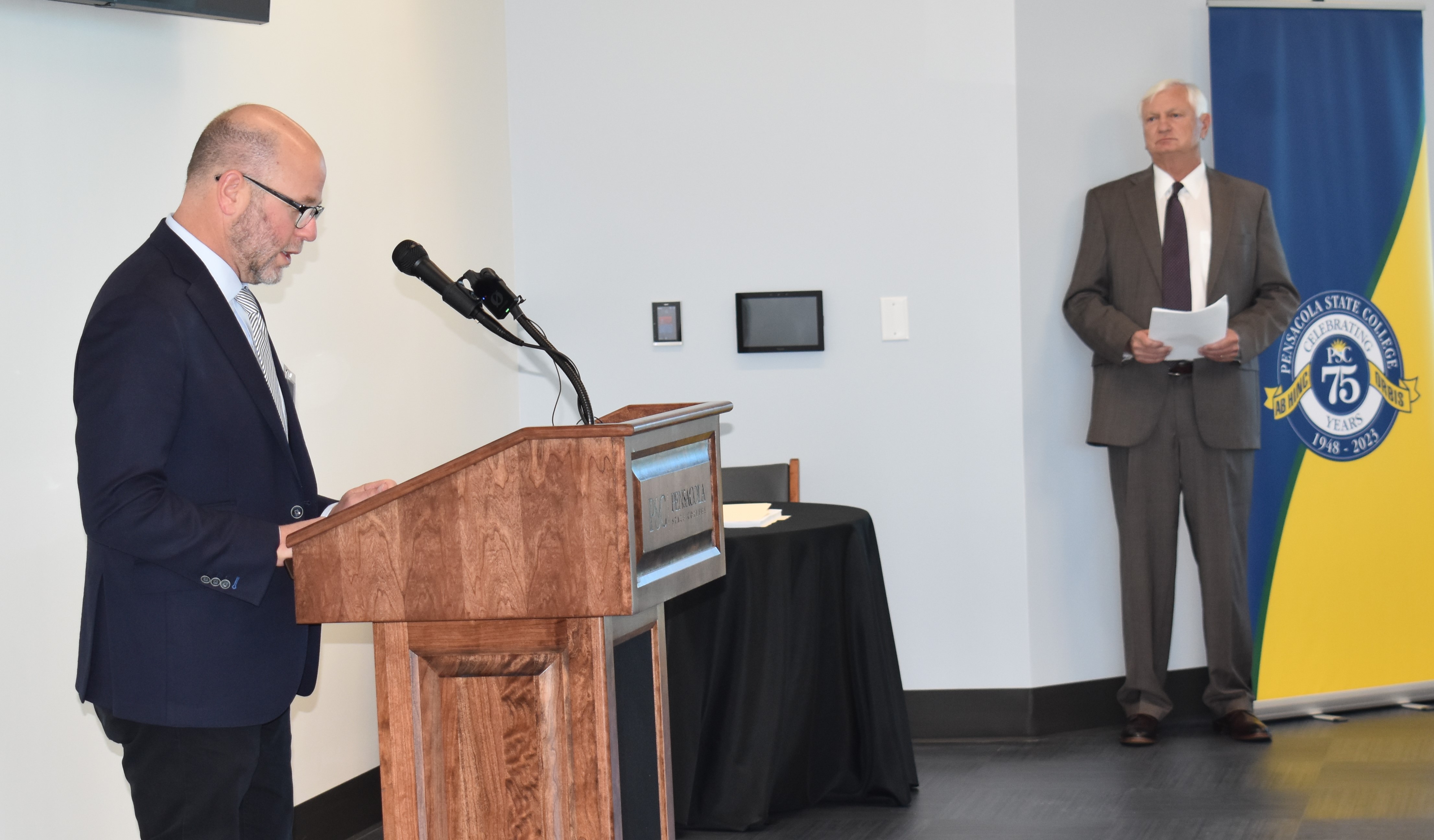 Dr. Troy Tippett, Chair of the Pensacola State College Board of Trustees, shared appreciation for community support received.
David Bear, son of the late Lewis Bear, Jr. and Chair of the Triumph Gulf Coast Board stated that he was "honored and excited" to be a part of this historic chapter in PSC history. Funding from Triumph supports student scholarships, waivers, certificates, and supplies for cybersecurity and informational technology programs at Pensacola State. Close to $12 million in grant funding from their organization helped bring the establishment of the center to fruition.
Escambia County Commissioner Jeff Bergosh highlighted the value that investment in STEM programs and facilities brings to institutions like Pensacola State College. "While universities expand their programs to accommodate the growing demand for careers in science and technology, schools like Pensacola State College are rising to meet that demand while still maintaining affordability. Students can attend classes and graduate without student loan debt."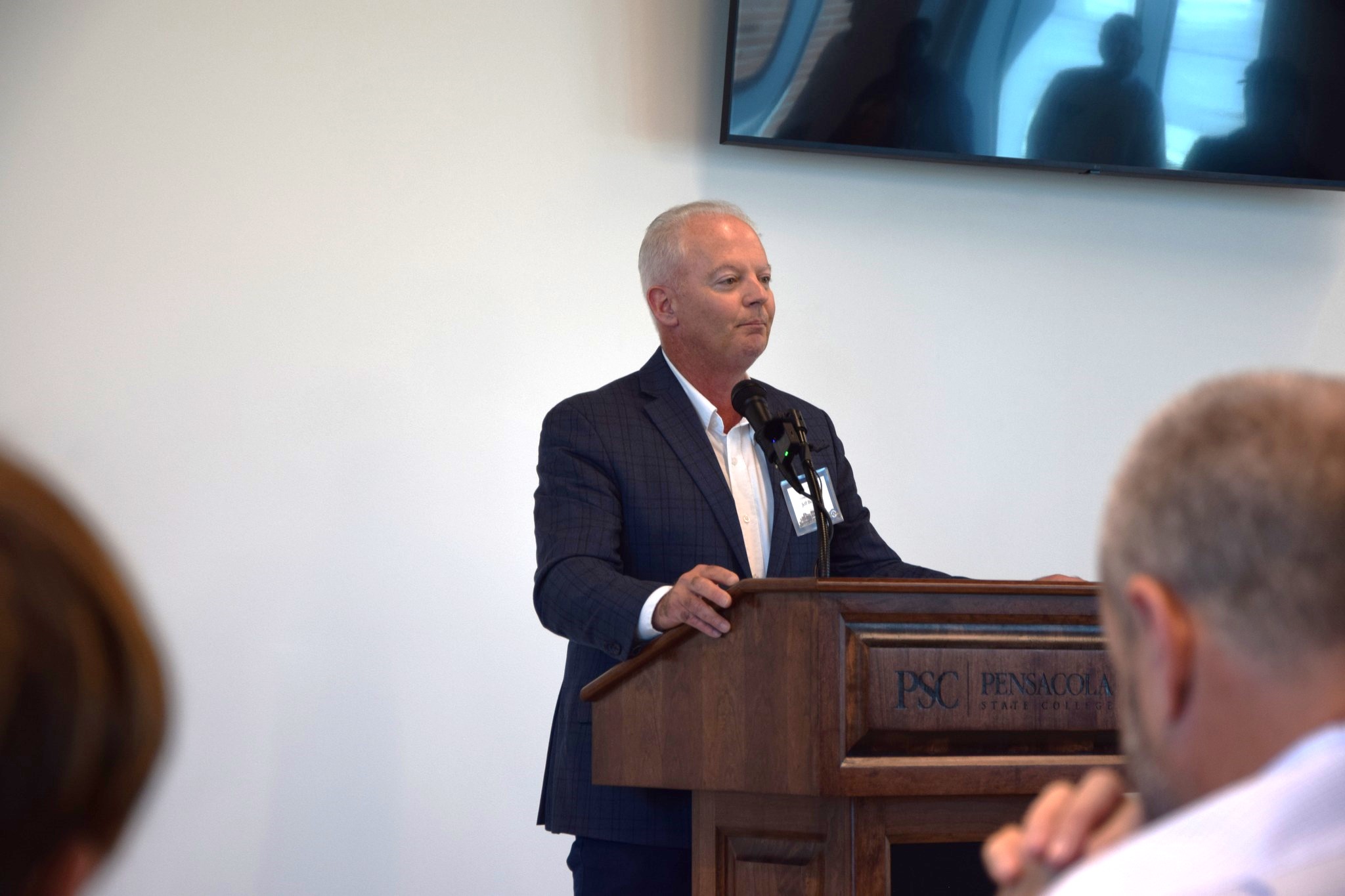 In addition to funding from the Bear, Jones, Moore, and Reeves families and Triumph Gulf Coast, the state of Florida contributed nearly $19 million to the center's construction. "Projects like this don't just happen, a great deal of leadership and collaboration are involved," said Bergosh. Hal George, Legislative Aide to Senator Doug Broxson, validated the importance of the project while speaking on Senator Broxson's behalf. He congratulated the College on this addition to their campus and its appeal.
Representatives from each of the families; Belle Bear (matriarch of the Bear family), Jay Margedant (nephew of Bill and Jo Jones), Angela Moore and Jacqueline Moore Pommerening (widower and daughter of the late Pete Moore), and Jim Reeves shared their appreciation for Pensacola State and their personal connections to the institution.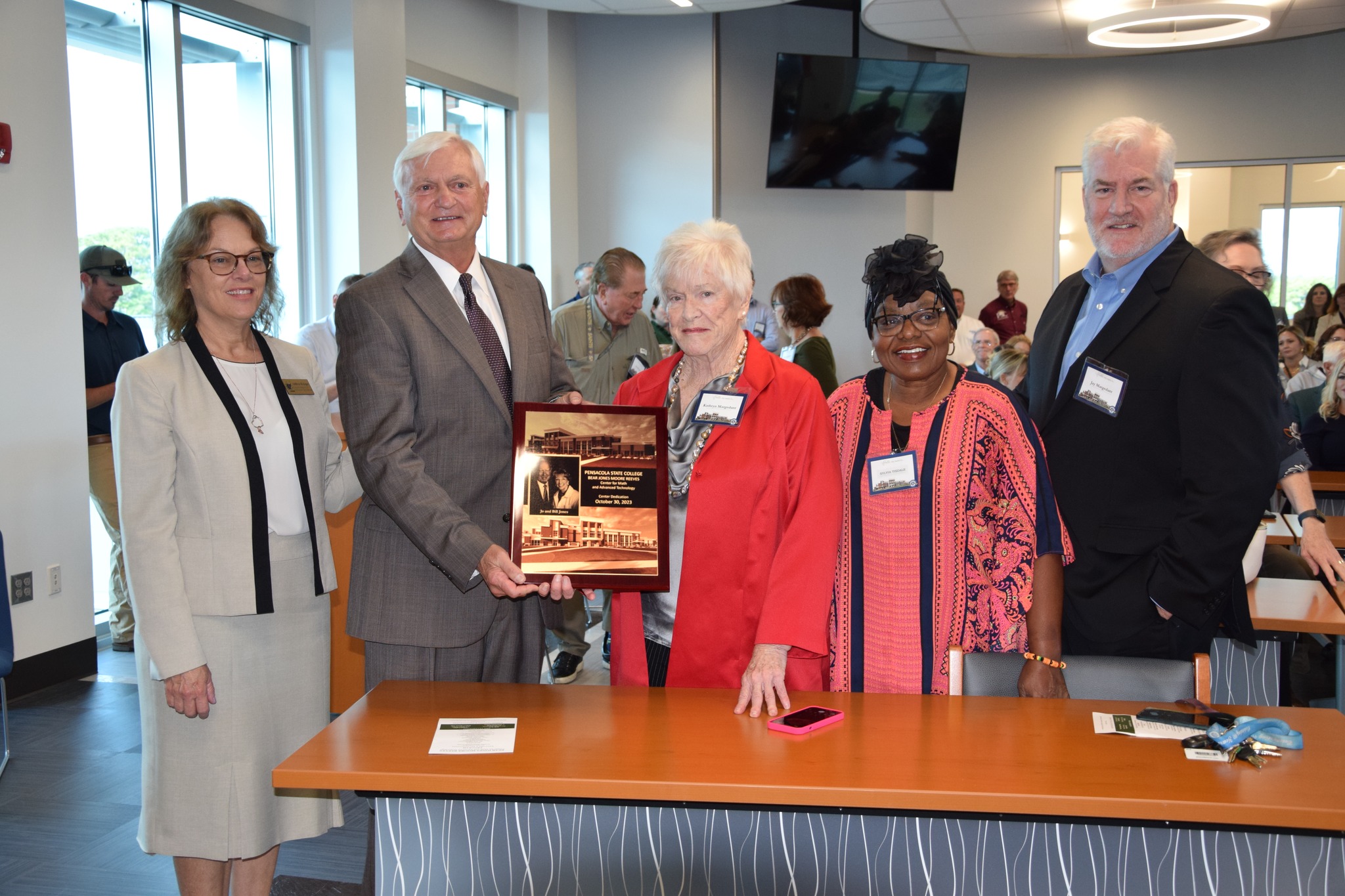 "This will provide more to people moving [as they join] into the local workforce," Belle stated. "What a blessing to our community."
Jay, who spoke on behalf of his mother, Kathryn Margedant (the late Bill Jones' sister), shared how proud Jo and Bill would be if they were able to be there. Angela Moore read a note of thanks from the Moore family's eldest daughter, Lauren Cutter, who was unable to attend.
"It's easy to fundraise for Pensacola State College," shared Jim Reeves, last of the representatives to speak from the families. "Supporting the College and its impact for students benefits everyone."